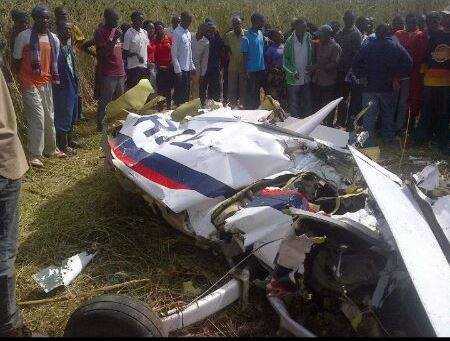 THE burial of late Zambia Air Force (ZAF) deputy commander, Major General, Muliokela Muliokela and commanding officer, Colonel, Brian Mweene who died in a plane crash in Lusaka on Monday will take place today.
According to a tentative burial programme obtained by the Times from the Ministry of Defence in Lusaka yesterday, Gen Muliokela and Col Mweene would be put to rest at the Leopards Hill Memorial Park in Lusaka.
The burial will be preceded by a requiem mass at the Cathedral of the Holy Cross.
Mourners are expected to gather at the funeral homes on Plot 378 along Independence Avenue (late Gen Muliokela's home) and Plot 8814 off Lake Road in Woodlands (late Col Mweene's residence) at 08:30 hours before proceeding to the Cathedral of the Holy Cross.
The church service is expected to start at 09:15 hours and graveside proceedings would start at 11:00 hours at Leopards Hill Memorial Park.
Gen Muliokela, 52, and Col Mweene, 41, died on May 19, 2014 in a plane crash in Westwood area near Mumbwa Road in Lusaka.
Gen Muliokela is survived by a wife Justina and four children while Col Mweene is survived by a wife Janet and four children.
Meanwhile, messages of condolences to the bereaved families have continued pouring in, with the latest coming from former Republican President Rupiah Banda.
Mr Banda conveyed a message of condolences to President Michael Sata on the death of Gen Muliokela who used to fly him in a ZAF aircraft while he (Mr Banda) served as Zambia's fourth Republican President.
In a letter to President Sata, who is Commander-in-Chief of the Armed Forces, Mr Banda described Gen Muliokela as one of the country's gallant generals and wished the Head of State God's strength and urged him to look to the future for renewed hope.
"The mere fact that after you assumed the presidency, you thought of elevating him (Gen Muliokela) to the rank of Major-General and appointing him ZAF Deputy Commander, points to the massive confidence you had in him," Mr Banda said.
This is according to a statement issued yesterday by Mr Banda's deputy administrative assistant, Kennedy Limwanya.
Mr Banda said he was touched by Gen Muliokela's death because of the service he rendered to him as his presidential pilot on ZAF planes.
Alliance for Better Zambia (ABZ) president Frank Bwalya also expressed sadness at the death of Gen Muliokela and Col Mweene and conveyed the party's condolences to the bereaved families and joined the rest of the Zambians in wishing them consolation.
The Copperbelt University Council, management and staff said they learnt of the death of the two ZAF officials with deepest shock and viewed the tragic death as great loss not only to the bereaved families and the nation but the institution as well.
The University has since conveyed its condolences to President Sata and the bereaved families.
Times of Zambia