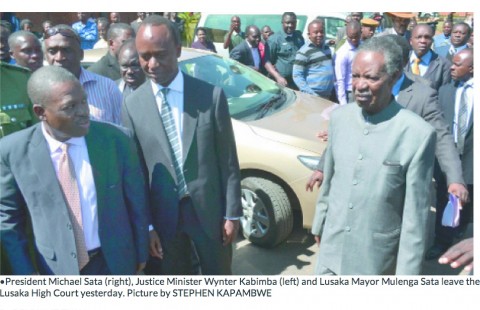 PRESIDENT Michael Sata yesterday made a surprise appearance in the Lusaka High Court where he testified that the Daily Nation ran an article about him which was full of 'fragrant' lies.
Mr Sata, who was clad in a grey suit, said his heart bleeds each time he reads the article published on May 16, 2012 because it was bent on tarnishing his image as President and that it was handled in an unprofessional manner.
The Head of State has sued Daily Nation Newspaper proprietor Richard Sakala and University of Zambia (UNZA) lecturer, Choolwe Beyani for defamation.
Dr Beyani wrote an article accusing the President of instructing Development Bank of Zambia (DBZ) to remove Vincent Malambo as its defence lawyer.
Mr Sata, who arrived at court at exactly 10:00 hours in a metallic green BMW amid tight security, testified before High Court Judge, Florence Lengalenga.
He said that a newspaper seeking to increase sales by running articles full of lies must be dealt with by the Courts of Law.
"Anybody telling lies against the Bible must be punished. Do unto others as you would love them to do unto you. Would you be happy to be insulted publicly? This is a Court of records not Local Courts, it should deal with those found lying," Mr Sata said.
The President said he was concerned with the article in question because of what the general populace would wrongly perceive of him.
He said the article created an impression that he was a corrupt man, which was not true.
"I do recall the article under the headline 'Malambo's Removal from Representing (DBZ) Criminal.' My reaction is that Sakala and his friends are fragrant liars, everything said are all lies. If they are corrupt, well I am not corrupt myself, my heart bleeds each time I see the article," Mr Sata said.
Mr Sata, who was being led in examination-in-chief by his lawyer, Bonaventure Mutale denied accusations that he was shielding Post Newspapers Editor-in-Chief, Fred M'membe, Director of Public Prosecutions Mutembo Nchito and his older brother Nchima from being prosecuted over a DBZ loan.
He said Mr Sakala was unprofessional when he published the article because he did not call him to verify the accusations even though he was a good reporter.
"He just wanted to tarnish my image as a President but he has not succeeded, typical of Sakala after he left government he had always wanted to tarnish my image. He did not call me, I have only seen him today," Mr Sata said.
He said that he was not privy to the financial arrangement the trio had with the DBZ concerning the loan.
"How would I have helped them to get a loan? I only knew about it after it had already happened. You are saying Mr M'membe and the Nchito brothers are my friends, you should know that every Zambian is my friend," he said.
Earlier, Ms Justice Lengalenga ruled that the matter should proceed because Mr Sata was a busy man who should not be disturbed on grounds that Dr Beyani had failed to engage a lawyer on time.
Mr Sakala's lawyer Mwanajiti Mabbolobbolo from Makala & Company Legal Practitioners had applied to have the matter adjourned so that more lawyers could join the defence team.
Mr Sata was not cross examined because Mr Mabbolobbolo asked for time to engage additional defence lawyers whom he needed to liaise with once engaged.
The matter has since been adjourned to June 24, this year for cross examination.
Mr Sata was accompanied by his son Mulenga, who is Lusaka Mayor, State House Special Assistant for Press and Public Relations, George Chellah, Justice Minister Wynter Kabimba, Lusaka District Commissioner, Ashwell Kapengele and other senior officials.
Times of Zambia