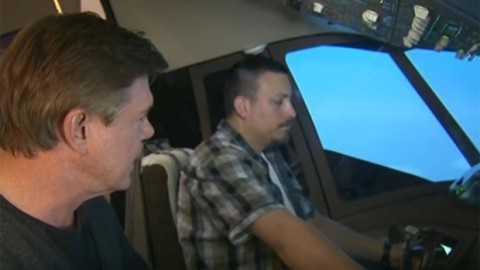 A Canadian flight simulator instructor who was fired in part because his employer suggested he dressed "like a 15-year-old" during his appearances on CNN's coverage of missing Malaysia Airlines Flight 370 is planning a lawsuit against the company.
Mitchell Casado and his lawyer will hold a news conference Friday in Toronto announcing the lawsuit against uFly, a Mississauga, Ont.-based company.
Casado became a familiar face during CNN's non-stop coverage of Flight 370's disappearance when the network recruited him to join a reporter inside a flight simulator and demonstrate what could have happened to the plane under different scenarios.
But uFly fired Casado in mid-April, partly because he refused to wear a pilot's uniform on CNN, company owner Claudio Teixeira told The Associated Press.
Teixeira told AP that Casado showed up late to his regular job and "shamed Canadians" by dressing like a teenager.
"Even though I let him be on TV he shamed us Canadians and shamed my company with the way he was dressing like he was 15 years old," he said. "People were complaining that it wasn't professional at all … If you go to any plane you don't see them in shorts and sandals."
Reached by phone Thursday at uFly's office, a man who identified himself only as Eduardo said the company was not aware of Casado's lawsuit and could not comment.
In an April 17 statement posted on uFly's website, the company said Casado was not an employee, but an "independent consultant" whose job was to fly the simulator and "provide the ultimate piloting experience to patrons of the business."
The company said a "difference of opinion" led uFly to end its relationship with Casado.
"Mr. Teixeira sincerely apologizes for any misunderstanding and had no intention of offending fellow Canadians or anyone else for that matter," the statement said.
"This was an internal company matter that needed to be addressed and had to be dealt with."
Read more: http://www.ctvnews.ca/canada/canadian-featured-in-cnn-s-mh370-coverage-suing-former-employer-1.1802859#ixzz30eZYRlkr