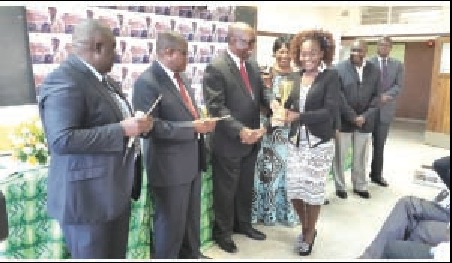 MINING firms are wooing top performing University of Zambia (UNZA) students from the School of Mines.
In a related developed, Mines, Energy and Water Development Minister Christopher Yaluma has called for greater enrolment of females in mining engineering studies.
Award-winning mining engineering students were last Friday overwhelmed with calling cards from representatives of mining companies at the UNZA School of Mines prize-giving ceremony where the minister of Mines was the guest of honour.
Mr Yaluma, who reiterated the need for concerted and accelerated efforts, said that enrolment of more females in mining engineering studies could add impetus to fill the skill gap in the mining sector.
''While we continue to produce quality graduates, every effort must be made to encourage more females to enrol in mining engineering studies,'' he said.
He added: ''The awards are also important for the university to continue producing quality graduates despite the many challenges faced by the institution. And as such my ministry will from next year take an active role to support the awards.''
Earlier, UNZA Vice-Chancellor Professor Stephen Simukanga appealed to government and the mining companies for greater involvement as they were the main beneficiaries of the graduates churned out by the university.
Kansanshi Mine public relations manager, Godfrey Msiska, pledged FQM's continued commitment to enhancing human capital in the mining sector, citing the company's establishment programmes of developing skills from artisanal to engineering levels.
Monica Botha impressed among the recipients sweeping fourth awards, including the First Quantum Minerals (FQM) Prize for Best Fourth Year Student in Metallurgy and Mineral Processing.
Other recipients were Webby Banda, Humphrey Mbasela, Mukuka Simusokwe, Kelvin Chitambo and Givers Chisanga.
The excitement of the award winners reached a crescendo in the aftermath with various mining executives handing them business cards.