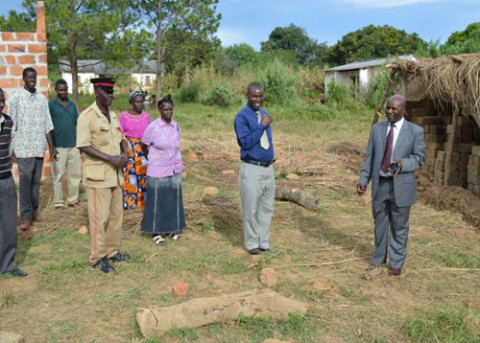 TROBBY Mapulanga, 18, seems contented. She got married last year and has a five months old baby on her back.
Her life revolves around drawing water from a near communal borehole in chief Chiwala's area in Masaiti district.
She was only 17 when she got married last year to a man who works as a general worker at an upcoming cement plant in the district.
The girl, although has a desire to go back to school but she is not sure her husband would allow her.
As things stand, she is trapped and the world may never know what she ought to become in life.
Her wishes and dreams seem to have been cut short unless something dramatic happens.
"I stopped school because my parents could not afford paying my school fees. I now have a child and a home to look after," she said.
She used to attend school at Lupiya School near the Zambia/Congo border.
Her story is not unique. She lives in an area comprising of 18 villages with a population of about 3000 people.
There are plenty girls like her in the community trapped in the name of marriage.
The problem of early marriages in Masaiti, and other parts of the country is rife.
When one takes a walk into densely populated communities in urban areas and as well as much of rural Zambia, it is a common feature to see little girls with babies on their backs.
For once, one would think, the babies are their siblings, but they are their off springs. It is a sad story of children with children.
Senior Chief Chiwala of the Lamba people in Masaiti, has stepped up the fight against child marriage in his chiefdom. It is an uphill battle but he is determined to win it through collaborative efforts.
He has urged his subjects not to subject their daughters into early marriage.
"I have warned all my subjects against the vice. It is very retrogressive. It is better girls stay in school in order for their future to be secured," he said.
The traditional leader has been going round his chiefdom addressing his subjects about the value of education, saying it is the only way children would be liberated.
Child marriages, better off known as early marriages are a concern in Zambia, especially in rural areas. They are indeed a common African problem, rooted in ancient and permitted complex cultural and traditional practices, which are no doubt retrogressive.
Such practices continue to rob girls of a bright future.
Being married young, at the expense of completing school, is like bondage. The vulnerable girls often have no way of realising their potential.
The minimum legal age for marriage in Zambia is 18, and parental consent is required if a girl or boy is between 16 and 17. Anyone under 16 is a minor, and defilement of a minor is a serious offence, punishable by imprisonment of up to 25 years.
Although this is what the law dictates, the situation on the ground is different. Many do not see the value for education and the rewards that come with it due to lack of exposure in villages.
A girl would rather be given into marriage for money or bunch of animals to add to the family wealth.
Zambia has 72 known tribes and each of these tribes has their different customs and traditions. As Chief Nzamane of the Ngoni people of Eastern Province once put it, there is need for chiefs from all over the country to speak out against this practice.
But chiefs by themselves cannot end practices alone.
"We need our government to strengthen laws to prevent child marriage. We need them to take a stand and say that early marriage is not what we want for the children of Zambia," he once said.
He is one of the chiefs, who launched a crusade against child marriages through his association Mfumbeni Development Association,
In Zambian society, child marriage is often the product of gender discrimination that values the survival, development, protection and participation of boys more highly than girls.
Without doubt, child marriage is a violation of human rights whether it happens to a girl or a boy, but currently it represents the most prevalent form of sexual abuse and exploitation of girls.
The harmful consequences of child marriage include separation from family and friends, lack of freedom to interact with peers and participate in community activities, and decreased opportunities for education. Child marriage can also result in bonded labour or enslavement, commercial sexual exploitation and violence against the victims.
Child marriage is synonymous to selling a child into slavery. Parents may consent to child marriages out of economic necessity. Marriage may thus be seen as a way to provide a male guardian for their daughter, protect them from sexual assault, avoid pregnancy outside marriage, and extend their child-bearing years. The dual legal system in Zambia has allowed child marriages to take place.
Under the customary law, once a girl attains puberty, she is assumed to be ready for marriage and with the consent of the parents, she could be married off.
In every girl or boy are dreams, but those dreams are never often realised because of oppressive conditions around them.
Motivational speaker Chongo Majariwa said the girl child needs to be given the opportunity to study in order to secure their future.
"That's the only way.  Marriage should not be ceiling," said Ms Majariwa, who often conducts career talks for students in Ndola.
A couple of years ago, a parliamentary committee report on sport, youth and child affairs revealed that child marriage was high in Zambia.
The country has been ranked 10th on a global ranking of prevalence of early marriages amongst girls and boys. Particularly notable is the vast gender discrepancy with 42 per cent of women aged between 20 and 24 years, married before age 18, compared to only 5 per cent of men, indicating that girls are often married to older men.
However, it is gratifying that organisations like the United Nations Population Fund (UNFPA) and UNICEF have been working round the clock campaigning against child marriages.
For example early last year, UNFPA Zambia was identified as the lead UN Agency to support national programmes to end child marriage, including facilitating support from other donors and cooperating partners.
According to UNFP, child marriage in Zambia affects over 40 per cent of girls nationwide. It is a gross human rights violation which constitutes a
grave threat to young girls' lives, health and future prospects – putting them at risk of violence, poverty, HIV and AIDS and complications related to pregnancy and child birth which in developing countries like Zambia are the main causes of death among 15-19 year-old girl.
A UNFPA sub-analysis of the 2007 Zambia Demographic and Health Survey indicates that on average, two out of five girls will be married
before their 18th birthday – representing about 42 per cent of women. Once Zambian teenage girls are married, only part of them (28.1 per cent) use
contraception in spite of their needs to space their child bearing time. Of them, 55.8 per cent have their demand for contraception satisfied.
The analysis further indicates that while child marriage is common in Zambia, girls living in poverty and in rural areas face a higher risk
of being married at an early age, while girls who do not have access to education are particularly vulnerable.
Ultimately, efforts of the likes of Senior Chief Chiwala and other traditional leaders need to be commended and supported.
There is need to save the girl from early marriages.
Times – By GETHSEMANE MWIZABI