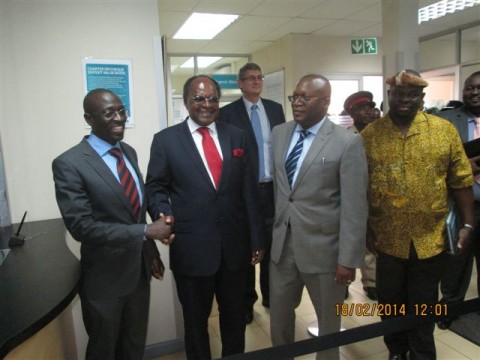 First National Bank footprint NOW in Chipata
"The growth of commerce thrives best with enhanced banking"
"FNB's entrance into Chipata will empower Zambians and contribute immensely to the economic growth of the country"
CHIPATA, Zambia – Thursday, 20th February 2013 – First National Bank (FNB) Zambia offcially launched its Chipata Branch at a colourful ceremony in Chipata on Tuesday, 18th February 2014.  The occasion was graced by Chief Madzimawe, who represented His Royal Highness Paramount Chief Mpezeni IV, Dr Chileshe Mulenga, Permanent Secretary of the Eastern Province, senior government officials, His Worship the Mayor of Chipata, industry leaders, local farmers and traders.  Bank of Zambia Governor, Dr. Michael Gondwe officiated as Guest of Honour.
The FNB Chipata Branch, which commenced trading in December 2013, becomes the 12th addition to FNB's branch network.  It is a full service bank that features two FNB ATMs, three tellers, four customer service consultants, two administrative support staff and a Branch Manager.
FNB is currently represented in six provinces and now operates from 12 branches with another four branches planned during 2014.  This expansion will ensure representation in Lusaka, Central, Southern, Copperbelt, North Western and Eastern provinces.
In pursuit of further increasing access for customers, FNB Zambia it is growing at approximately 15 ATMs per annum and currently has 68 ATMs.  The bank also has 142,000 active accounts supported by just over 400 staff members.
The opening of the FNB Chipata Branch follows the recent commencement of operations of the Chipata-Mchinji Railway Line linking Zambia to Malawi, Mozambique and the Indian Ocean.  This development brings with it an avalanche of imports and foreign exchange into Zambia from trade associates in the East, and sees an increase in the number of local traders in Chipata and the Eastern Province as a whole.  It also calls for dependable banking facilities.
Giving the keynote address, Dr. Michael Gondwe commented: "Chipata is Zambia's gateway to the Nacala Corridor and it is Government's intention to fully exploit this avenue to the sea as a major trade route… The coming of FNB Chipata will greatly compliment the other financial services providers, and contribute towards meeting the needs of the business community." 
Dr. Gondwe also mentioned how today, the role of financial services could not be over emphasized, and commended FNB for its initiative in spreading the branch network countrywide.
He further said: "In its five years of existence in the country, FNB has promoted the economic development of Zambia through the provision of financial services. The Bank of Zambia applauds FNB on persistently bringing banking to the doorsteps of our people."
In his welcome speech, the Chairman of FNB Zambia, Renatus Mushinge commented that: "In line with FNB's vision to create a better world, we are confident that our entrance into Chipata will empower Zambians and contribute immensely to the economic growth of the country
With our value proposition of people, efficiency, innovative solutions, capacity and our delivery model, we will take every step to unlock opportunities that provide rewarding relationships and accomplish FNB Zambia's continued strategy for development.
FNB Zambia's Chief Executive Officer, Mr. Sarel van Zyl expressed the bank's understanding and appreciation of the Eastern Province's significance to the Zambian economy.  He also highlighted how FNB's services would prove to be an important enabler for success to business houses and individuals in the region.
Mr. Van Zyl said: "The opening of our branch here in Chipata re-confirms the Bank's commitment to be a long standing partner in the financial and economic development of all corners of Zambia. To the people of Chipata and elsewhere in Eastern Province I urge you to think of innovative ways to grow your business and consider FNB as a partner."
In its last five years of operation in Zambia, FNB has received various accolades for its innovative product offering and outstanding customer service. These awards include: Bank of the Year from the Kitwe Chamber of Commerce, Best Electronic Banking Products in Zambia from the Bankers Association of Zambia, Best Vehicle and Asset Finance Bank in Zambia from the Bankers Association of Zambia, and Best Customer Service in the Financial Services Industry in Zambia from the Zambia Institute of Marketing.
END
For more information, contact:
Ms. Clotilda Mulenga – Head, Strategic Marketing & Communications
Tel:      +260211 366 800
Mobile: +260 (0)962756852
Email:   [email protected]