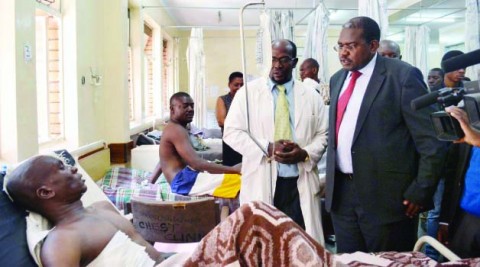 Eleven people have died on the spot following a road traffic accident that happened in the early hours of this morning along the Monze- Mazabuka road.
The accident that occurred around 02: 45 hours in Kaleya township of Mazabuka District involved a Namwala – Lusaka bound Marcopolo bus and a truck and trailer which collided head on.
 A spot check at the accident scene around 03: 00 hours found police officers removing bodies of the deceased from the extensively damaged bus.
ZANIS reports that Southern Province Police Commissioner Mary Chikwanda confirmed  the accident in an interview in Mazabuka adding that out of the eleven deceased victims, eight  were males while three were females.
Ms. Chikwanda disclosed that a total of 24 casualties that include two children with the youngest being six months old, 14 males and 8 females have been rushed and admitted to the district's  hospital.
She stated that out of the 24 casualties, 3 males are and five females are admitted to the hospital in a very critical condition.
Ms. Chikwanda disclosed that both the driver for the Marcopolo bus identified as Nobble Hamukale aged between 30 – 35 years and the driver for the South African Truck, Wedson Chauluka, a South African national died on the spot following the head on collision.
She disclosed that according to survivors, the accident occurred when the driver of the truck registration number WXV 588 GP went to the opposite lane where the bus was in an attempt to avoid hitting a cyclist.
 And Namwala District Commissioner Gevar Nsanzya who also rushed to the scene has appealed for calm among the people of Namwala saying health authorities at Mazabuka District HOSPITAL  are doing everything possible to evacuate the seriously injured to the University Hospital in Lusaka.