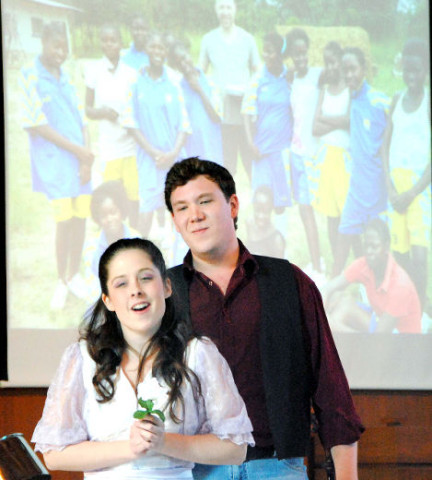 The show must go on and it did.
A benefit concert for Same World Same Chance raised about $2,000 Saturday at Central United Church in spite of some very unfortunate circumstances.
Soprano and event organizer Rachel Mallon was in a car accident on her way from London and was unable to attend. She wasn't seriously hurt but she was disappointed she couldn't be there.
However, the program continued on without a hitch in front of about 200 people.
"It went perfectly," Mallon said. "I heard so many good things about it—there was so much variety."
The show included jazz, opera, show tunes and contemporary artists.
Master of ceremonies Wendy McNaughton felt the show was a big success thanks to all the work Mallon did ahead of time putting the show together.
"The variety was incredible. It's just a huge credit to her organizational abilities—everything was in place," she said.
The money raised is significant for Same World Same Chance which was co-founded by Stratford high school friends Kim Hurley and Marissa Izma after they first visited Zambia in 2008. They have managed to create a high school which has 17 female students and a nursery school with 20 boys and girls.
Mallon travelled to the site this past summer where she taught music, reading and English.
"The hope and vitality they have….for them being at this school is like they won the lottery," she said.
Some of the girls were sleeping on the classroom floor because the two-hour walk to school and then two hours home again wasn't possible in daylight. A dormitory for the girls is almost complete.
Izma still lives in the small community of Kibombomene where she's asked regularly if she can take more girls at the school. That's the long-term goal. The hope is to have 200 girls at the school as well as a healthcare clinic on site.
For now, the next steps are hiring more teachers and building at least one more staff house so that more classes can be offered to the community.
To help make that happen, Mallon, also raised in Stratford, is planning more concerts including one in London in the near future.
"It became a passion. I had to do it because I've met those individuals, they're amazing and heartbreaking at the same time."
Mallon teaches voice performance in the Don Wright Faculty of Music at Western University.
For more information about Same World Same Chance go to wwwsameworldsamechance.org.