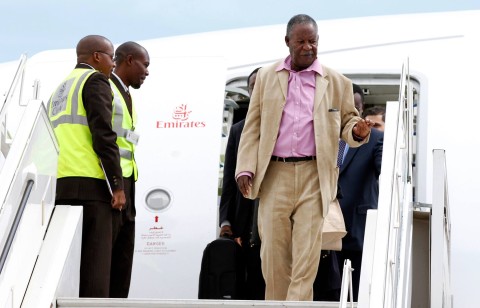 Government is happy that President Michael Sata's trip to the United Kingdom has exposed UPND Leader Hakainde Hichilema's level of understanding duties of the President, and that Zambians should begin to question whether he deserves to be President of this country.
Chief Government Spokesperson, Mwansa Kapeya, has told QFM News in a statement that the remarks attributed to the UPND leader in today's edition of The Post Newspapers are at best disappointing, and that Zambians, including UPND members should judge him based on such remarks.
Mr. Kapeya has advised Mr. Hichilema that even when the President is on leave, he does not abandon his duties.
Mr. Kapeya says in Mr. Hichilema's own careless talk, he misinformed the nation that President Sata had been flown to India for treatment and now that he has witnessed the return of the President he is struggling to remain credible.
He says Mr. Hichilema should not talk about the President 'malingering in the UK', but should inform the nation about how the President is recovering in India since he reported about his illness.
He says Mr. Hichilema is still recovering from the crashing 2011 defeat, and has not realized that it is one President at a time