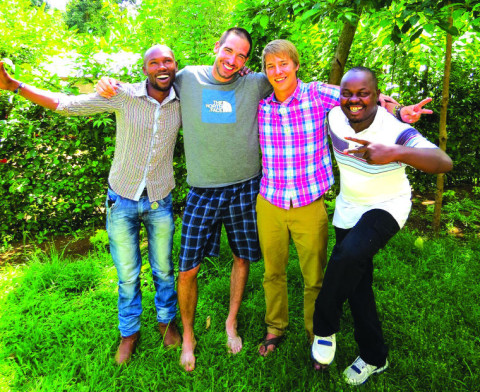 Buffalo native Josh Dube took the term "flying by the seat of your pants" somewhat literally in late 2013 when he bought a one-way ticket to Zambia, Africa. His goal? Return to a place that had done a lot for him and give something back in return.
In summer 2011, the 2009 Buffalo High School graduate – who graduated from Gonzaga University in May 2013 – traveled with a study-abroad group to Charles Lwanga College of Education in Zambia. The group spent four weeks working in grade school classrooms, immersing themselves in Zambian culture and helping Charles Lwanga College students develop various strategies for teaching English in the classroom.
"It seemed like the second after we landed I knew I'd want to go back (to Africa)," he said.
Dube said there was one experience that cemented his resolve to return to Africa.
He was assisting a teacher in a seventh-grade classroom. The teacher approached Dube and told him he was going to give the class their next math lesson, which he had 10 minutes to prepare.
Dube said he enjoyed the experience so much that he asked college staff if he could return on his own to volunteer.
"I got a very positive response — they welcomed me with open arms," he said.
When he arrived in Africa in September, he didn't know exactly how long he'd be staying or what exactly he'd be doing — all he knew was that he wanted to help Charles Lwanga College in some way and rekindle the friendships he had made during his first trip to Africa two years earlier.
"It's hard to believe just how welcoming the people are and how much they care about you," he said.
Dube, who returned to Buffalo Jan. 16, stayed in Africa for a little more than three months — most of which was spent at the college helping in any way he could.
"I just told the staff there that I was willing to do whatever they thought would benefit the college," he said. "I didn't really have a plan."
The college kept him busy with several projects, ranging from construction to teaching. A donor from Gonzaga gave funds to the college to fix up its old swimming pool and construct new tennis courts, and Dube had a hand in each.
"I was sort of the middle man between both sides," he said, adding that the pool had already been constructed but had sat unused for 20 years. "It needed a lot of fixing up."
But perhaps Dube's most valuable experience was when college staff gave him his own class to teach. Dube, who earned a bachelor's degree in psychology and a certification for teaching high school social studies from Gonzaga, hopes to someday become a high school counselor, but he plans to teach social studies before that.
"I was given a geography class to teach," he said. "I was pretty excited about that, since geography is one of my specialties."
He taught four geography classes over a period of four weeks to about 90 students, he said. The classes mostly went over African geography and history.
Dube said the students at the three-year college were mostly around his age — 21 or 22. He enjoyed getting to know the students, and after a couple of weeks, everyone was comfortable with the teaching arrangement.
"It was a really cool experience," Dube said. "We had no tech to work with — just a whiteboard."
The lack of advanced technology challenged Dube to change his teaching techniques, but he said the students seemed to appreciate his style.
"These college students seemed to soak it all up," Dube said. "I tried using strategies that they might use in the field. It was a great learning experience for me."
After his stint at the college was over, he still had some time to kill, so he hopped on the next bus to Tanzania to meet up with fellow Buffalo native, Jordan Edgcomb, who was enjoying his third trip to Africa.
But the bus ride to Tanzania was less enjoyable than Dube might have hoped. Clocking in at 56 hours, including a couple of breakdowns, it was an epic, and unanticipated, journey.
"It was a pretty crazy experience," he said. "I was the only non-African on the whole trip."
And, unlike in Zambia, Dube could not understand much of what people were saying. While English is the official language in Zambia, Swahili is the official language of Tanzania.
But Dube said he took the experience in stride. Much like the rest of his time there, he didn't know what to expect — and that was just fine with him.
"They have a saying in Africa called T.I.A., meaning 'this is Africa,'" Dube said. "Anytime anything unexpected happened or something didn't go how it would back home, I would just say T.I.A. — this is Africa."
But he experienced more of the African hospitality he'd come to know in Zambia when his seat partner, who spoke a few words of English, tried to chat with him for a bit. And when the bus passed over the border into Tanzania, a local man helped him fill out his border-crossing paperwork.
When he met up with Edgcomb in Tanzania, the pair started the last leg of their time in Africa on a five-day safari.
"We saw everything there is to see," Dube said.
Keeping in the theme of uncertainty and spontaneity that had permeated the rest of the trip, Dube and Edgcomb took a gamble and decided to take a trip to Zanzibar.
"We bought our tickets that day," Dube said. "We didn't really know what we were doing."
The rest of their trip was a whirlwind of further uncertainty, met with African hospitality, that led them through back to Zambia for Christmas, on an excursion to Victoria Falls and down to Cape Town, South Africa for New Year's Eve.
"It was a pretty wild experience," Dube said. "It wasn't the typical experience for tourists."
Although it was hard to leave, Dube is glad to be home so that he can start planning his teaching career. But a possible field trip back to Africa is definitely in his future, he said.
"It made it easier leaving having the mindset that I'll come back someday," he said.
The most important takeaways from both of his trips to Africa, in addition to his learning experiences serving the college, were the relationships he'd formed, he said.
"There always seemed to be someone there to look out for me," he said.
Bulletin photo courtesy of Josh Dube
http://www.buffalobulletin.com/article_675e3b38-8ea8-11e3-99ef-0017a43b2370.html