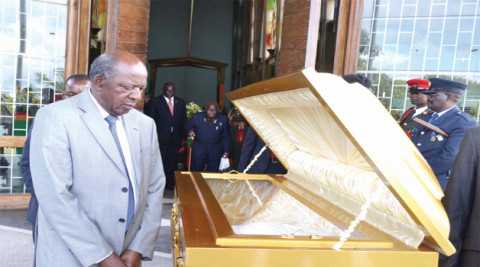 ACTING President Alexander Chikwanda has described the late Zambia's High Commissioner to Malaysia, Miles Banda as a faithful and hard working servant of the people.
Mr Chikwanda, who yesterday led hundreds of mourners in paying their last respects in honour of the late envoy, said Mr Banda helped boost trade relations between Zambia and Malaysia during the period he served in that country.
"As we heard in the life history, Mr Banda was not only faithful as a Christian, but was also a faithful servant who served in the civil service diligently," he said.
Mr Banda died in Kuala Lumpur, Malaysia, after an illness. He was 80.
The requiem service was held at the Anglican Cathedral of the Holy Cross in Lusaka.
Mr  Chikwanda said during his work, Mr Banda related with others well.
"On behalf of the President and the people of Zambia, I wish to convey our deepest condolences to the widow, the children and the relatives on the death of Mr Banda," he said.
The widow, Maggie, described her husband as a man with a humble heart.
She said the deceased showed love to her as a wife, the children and grandchildren.
In a message read for her by Miriam Mumba, Mrs Banda said although he was gone, her husband would continue to reign in her heart.
Mr Banda is survived by his wife, Maggie, seven children and grandchildren.
He was put to rest at Leopards Hill Memorial Park Cemetery in Lusaka.