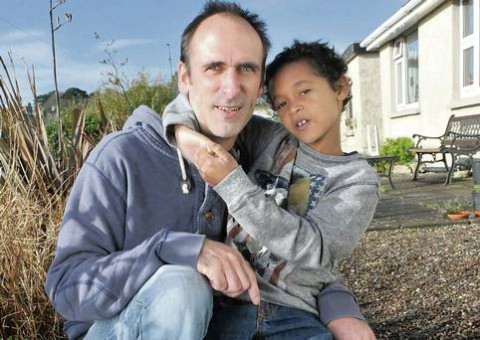 The private investigator who helped an Irish father trace his son in Zambia, has been charged with assisting a child abduction and released on bail.
Cork father Richard Quarry undertook an epic seven-week trip to rescue his son Ethan (7) earlier this month, and triumphantly brought him home on Saturday.
In Zambia, he employed a private eye to help him to locate Ethan, and once Richard and Ethan were reunited, they made their way straight for the Zimbabwean border.
This morning Richard revealed that the PI has been charged with assisting in a child abduction.
"He was arrested and charged for assisting with a child kidnapping. He was released on bond. So now it's a wait-and-see situation," he told independent.ie.
"I'm in regular contact with him because from where I stand, there has been no crime committed in Zambia."
"In the child abduction act and written legislation, if the person has a right to take the child, then it's not an offence."
"It's scary that he's been charged. If he's been charged, what could have happened to me if I was caught?"
Richard says that the PI's case will be helped by the fact that himself and Ethan were deported out of Zambia by the authorities. The PI has a document in his possession to prove this.
"The Zambian authorities deported me and I have a copy of that deportation. So I' think the PI has the defence that I didn't smuggle him out, the authorities deported them."
"It's a shame that they've decided to do this. My own feeling is that they [the Zambian authorities] are embarrassed by what happened."
"He had done nothing wrong. He was absolutely professional in his execution of assisting me in locating him."
"I really only employed him to help me find Ethan – he didn't drive me to the border. All he did was he drove me to the school."
Meanwhile, Ethan is enjoying some precious time with his Irish friends, after nine months apart.
"I said to him yesterday 'at least in Zambia, it's warm', and he said to me 'at least in Ireland you've got good friends'."
Earlier this month, Richard bravely walked into Ethan's school in Zambia and took him from his class.
The father was grilled by border police for three and a half hours, because his son's Irish passport did not have an entry stamp on it.
Luckily, the police discovered that Ethan also had a Zambian passport which his mother acquired for him, and duality is illegal in Zambia. The pair were deported and arrived home on Saturday.
Photo: Daragh McSweeney/Provision