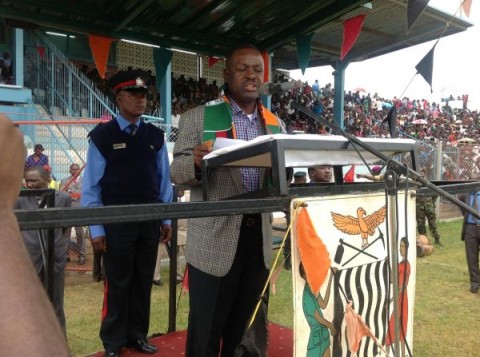 Solicitor General Musa Mwenye today testified before a tribunal investigating Wynter Kabimba which is being chaired by Acting Supreme Court Judge Evans Hamaundu who is sitting with High Court Judges Justine Chashi and Gertrude Chawatama
During cross examination Mr. Mwenye said he rendered his legal opinion to Winter Kabimba in his capacity as Minister of Justice which is a government position and not as Secretary General of the Patriotic Front Party.
This is in a matter in which Justice Minister Wynter Kabimba who is also PF Secretary General has been cited for abuse of authority of office, breach of secrecy of oath and interference with the independence of the Judiciary for coping a professional legal opinion from Solicitor General Musa Mwenye to PF lawyers Ellis and company and Acting Chief Justice Lombe Chibesakunda on election petitions.
The complainants in the matter are MMD's Lucky Mulusa and political activist Brebner Changala who want the tribunal to probe Mr. Kabimba for allegedly breaching the parliamentary and ministerial code of conduct and interfering with the independence of the Judiciary when Mr. Kabimba copied the legal opinion to PF lawyers.
Mr. Mwenye told the tribunal that he did not render the legal opinion to the Patriotic Front as a party but to Mr. Kabimba in his capacity as Justice Minister because his position involves offering legal advice to the government on issues of public interest such as election petitions.
He said his office existed to render a service to the public hence he rendered his legal opinion to Kabimba on grounds that election petitions were issues of public interest and that there were debates going on which were sparked by Transparency International Zambia when they raised an issue over the procedures for preventing candidates whose seats were nullified from re contesting them.
When he was asked by the one of complainant's lawyer Makebi Zulu whether he knew that the legal opinion he gave Mr. Kabimba was copied to the PF lawyers his response was that he came know about that development after some time.
Mr. Mwenye further said the professional legal opinion he rendered to
Kabimba was not a classified document.
The defence team has since applied for an adjournment in the matter because one of the other witnesses who scheduled to testify this afternoon was not available as he was attending a meeting.
The proceedings have since been adjourned to tomorrow for continued hearing.