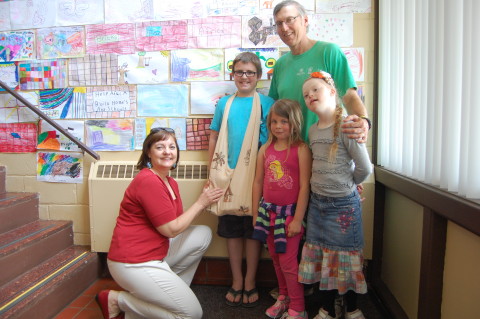 Peter and Corina Bolo were struck by the sheer poverty they witnessed while in Kamanga, Zambia for a Habitat for Humanity build a year ago.
But the retired school teachers, found something else among the residents of that tiny African village: happiness.
"Life is tough, but the one thing we found is you don't see people sullen or unhappy. We saw a lot of people who had very little who could teach us a lot about what leads to happiness," Peter reflected.
Giving some insight into the children's lives, Corina said, "they love to play games, they love to play soccer. They like to fool around, they like to dance, they like to sing – all the things that kids here like to do, too."
The Northport couple was part of a 16 member Habitat for Humanity build in Zambia. They helped with the building of three homes in Zambia and provided the funds to complete five more. Since returning to Canada the Bolos and three volunteers from the Ottawa area have been raising funds to support the building of two more classrooms at the Fruitful Vine School in Kamanga.
When they were there, the school consisted only of two classrooms and the outline for two more.
Those first two classrooms allow for 200 children from kindergarten to Grade 3 to receive a start at an education. Sadly, the Bolos admit, that's all the education many of the children will receive. The two new classrooms, they point out will allow provide space for 200 more K-3 students.
The five volunteers have committed to helping to raise $35,000 to complete and furnish the two classrooms and provide teaching material.
"It's a lot of money but it's not a lot of money," Peter said, "and it's not just 200 more kids going to school; it's 200 plus the next kids behind them sort of thing as well. It's going to be thousands of kids getting an opportunity to go to school who (otherwise) wouldn't get that opportunity."
"They're the most vulnerable children in the community of Kamanga," Peter added. "They are either single or double orphaned. And usually some kind of sickness or health issue, either with themselves or in their families." Quite often the illness involves tuberculosis or HIV or AIDs.
A lot of those children, this is their life; that's what they knowCorina Bolo, reflecting on the difficult realities faced by children in Zambia
Orphanages, the Bolos acknowledged, is not something children here are familiar with, but it is a reality for many children in Kamanga.
"A lot of those children, this is their life; that's what they know," Corina said. "If you talk to them about going to school…all of these children know the value of going to school, and they want to be in school."
Some of the teenagers they met were working as masons' helpers so that they could earn money to go back and get more education.
Even children who had no access to education, Peter said, would hang around the school compound.
The Bolos embarked on a speaking tour upon their return home last year, giving 52 presentations in April and May alone. Those presentations were primarily for an education and awareness purpose, but they also helped to get the fundraising started. They received about $3,200 at that time. By Monday the total was up to $8,532. Much of that growth was due to people giving donations for the Fruitful Vine project in lieu of exchanging Christmas gifts.
The fundraising initiative recently got a boost with the Stephen Lewis Foundation coming onboard as a partner and allowing for tax deductible receipts to be issued.
The Stephen Lewis Foundation, the Bolos noted, allows for construction to commence once two-thirds of the targetted funds have been collected. They point they are currently at 25 per cent of their objective.
The Bolos are embarking on another round of presentations about Kamanga and the Fruitful Vine school and, on Tuesday, the one-year anniversary of their arrival in Kamanga, they gave a presentation to the Summerside Rotary. While there remains an educational purpose to their talks, there's a greater focus on raising the necessary funds this time.
SOURCE Eric McCarthy/Journal Pioneer