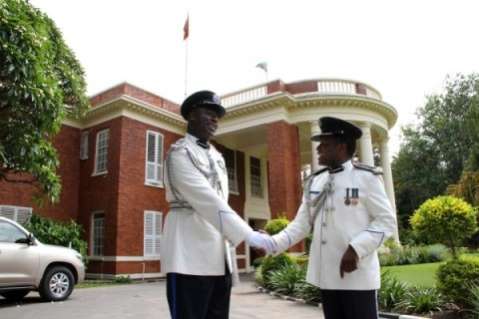 Two armed robbers, who stage a day-light robbery at the border town of Tunduma in Tanzania, have been beaten to death in Nakonde district of Muchinga Province by a Tanzanian mob justice.

Muchinga Province Police Commissioner, Remmy Kajoba, confirmed the incident in an interview with the Zambia News and Information Services (ZANIS) in Nakonde today, adding that the incident happened at about 07:30 hours yesterday.

Mr Kajoba said the two unidentified suspects were in a group of three robbers armed with an AK47 assault rifle and a pistol who attacked a shop belonging to a businessman identified as Hamis Mwambwalo at Tunduma in Tanzania.

The robbers fired three shots in the air before escaping with a box that they thought contained cash for the previous sales but instead there was glue for mending bicycle tyres in the sealed box.

The police chief explained that a group of Tanzanians chanced the three armed robbers who
sneaked into Zambia through Chiyanga, saying the two were apprehended right in Chiyanga near the black market and beaten to death.

Mr Kajoba said the other suspects managed to run away and is still at large.

Mr Kajoba said police have recovered one retractive butt and an AK 47 assault rifle bearing an unknown serial number believed to have been written in Arabic language but with 3137 bolt head carrier and cover spring number K03514.

Mr Kajoba said a joint operation with the Tanzanian police has since been launched to track down the suspect who is on the run and appealed to the public to help the police with information that would lead to the arrest of the wanted man.

The police commissioner said the unidentified bodies of the slain suspects are currently lying at Nakonde Hospital mortuary awaiting identification and burial.

An eye witness told a ZANIS reporter who rushed to the scene that three men armed with a pistol and an AK 47 assault rifle stormed into a shop at Tunduma about 500 metres away from the Zambian border shortly after 07:00 hours Zambian time.

The witness, who declined to be named, said the robbers fired three shots in the air before snatching the box that they thought contained cash for the previous day sales and started running towards the Zambian side but people who were nearby gave a chase and apprehended two right in Chiyanga Village and started beating them while the other one managed to escape.

He said by the time police from both Zambia and Tanzania were arriving at the scene, the two had already died.

"People armed with stones, sticks and all sorts of missiles descended on the two and beat them to death. By the time police from Zambia and Tanzania were arriving at the scene the duo had already died and waiting for a clinical confirmation because they were badly beaten," said the source.