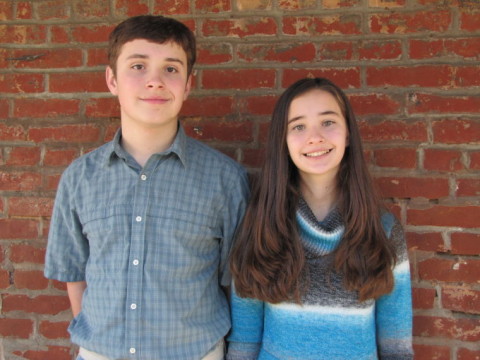 This summer, a Mountain Ranch brother-sister duo will have an eye-opening experience when they join a team of 20 teenagers on a seven-week medical mission to Zambia, Africa.
The eldest of four Sharp siblings, Justin, 14, and Katherine, 12, will travel to various AIDS orphan rescue units and schools. Primarily, their mission is to fit young patients with glasses.
Justin said many of the children have never had eyewear.
"Their lives have been blurry," he said. "You have this chance to make their lives clear."
The teens will also be trained to perform basic first-aid and work on community projects such as building toilet blocks.
Before flying to Zambia, the teens will convene in Florida for two weeks of intensive training dubbed "boot camp," where they will begin to acclimate to life without electricity and plumbing.
"It's meant to prepare them for living in a Third World country," said Justin and Katherine's mother, Shannon Sharp.
The teens will also participate in evangelism and construction classes to prepare for the ministry. In addition to their work project, they will be involved with Christian ministry, including Bible schools for children in Zambia.
The Sharp siblings said they're excited for the journey with Teen Missions International. In fact, they have been waiting for years to be able to participate in one of the humanitarian efforts.
They first heard about the trip from their mother, who participated in the program herself as a teen. She went on three trips, twice to Indonesia and once to Zimbabwe.
"I know how life-changing this was for me," Sharp said. "It's their desire to go. How could I not support them in this?"
This will be the longest Justin and Katherine have been away from home, but Sharp said she has a joyful peace about sending her children across the globe.
And coincidentally, the leaders from Sharp's Zimbabwe trip are the same as her children's leaders on their upcoming stay in Zambia.
"To me, it's an indication that this is something special," Sharp said. "Although my heart is gripped with a mother's trepidation, I trust that everything is going to be OK."
Justin and Katherine were originally signed up for a trip to Spain, but Katherine felt compelled to join the trip to Zambia, where she knew she would work in an orphanage with younger children.
The siblings switched teams, which was a fortuitous decision, since the Spain trip ended up getting canceled.
"I know I'm meant to go to Zambia," Katherine said. "There's no place for fear in my heart."
For the trip, the Sharp siblings each need to raise $6,000, the majority of which goes toward the project itself, along with expenses such as immunizations, visas, work boots and travel cost.
To spread the word about their mission, Justin and Katherine plan to present to churches and community clubs throughout Calaveras County. On Thursday, they made a presentation to a community Bible study group at Foothill Community Church in Angels Camp.
To book the Sharp siblings for a 10-minute presentation, call Shannon Sharp at 754-9430 or [email protected]. To donate online to Justin and Katherine's trip, go toyoucaring.com/justinandkatherinetoafrica or make a check payable to Teen Missions, P.O. Box 645, Mountain Ranch, CA 95246. For more about Teen Missions International, visit teenmissions.org.
The Enterprise plans to do a follow-up story after Justin and Katherine return from Zambia.