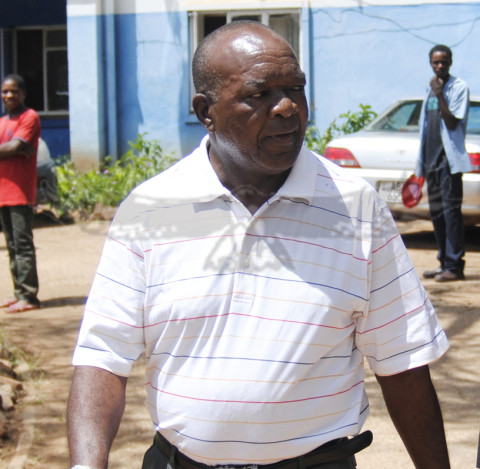 AFTER standing his ground and vowing not to reveal what he used K500,000 of taxpayers' money on, former Zambia Air Force (ZAF) commander Andrew Sakala yesterday sang like a proverbial canary in court.
He testified that he used the money for buying 'intelligence' information to prevent a possible uprising after the 2011 polls in case of a result that was not going to favour the Patriotic Front (PF).
Lieutenant General Sakala told a captive court audience that he received intelligence information suggesting that citizens would revolt and possibly use firearms to protest if the MMD had won the 2011 polls.
Sakala said he used the K500,000 he is accused of stealing to obtain the intelligence information from Zambians across various sections of society by paying "informers" money ranging between K5,000 and K3,000.
He said he paid about 120 people money to get the intelligence information on how Zambians were planning to use arms in protest if the 2011 elections outcome were in favour of the MMD.
The former ZAF commander is jointly charged with former Zambia Army commander Wisdom Lopa and former Zambia National Service commandant Anthony Yeta with one count of theft by public servant contrary to the Laws of Zambia. The trio is accused of stealing K1.5 million.
He revealed that Gen Lopa and Gen Yeta never signed for the cash he gave them for probably similar assignments.
"The disbursement was made in cash and it was finished before September 24, 2011. These monies were being given to former civil servants, former defence service personnel and ordinary citizens to help the air force with intelligence information before and after the 2011 general elections," Sakala said.
"For instance, I gave less than K5,000 to Mr Hamaundu, I can't remember his first name, but he was staying in Bauleni township then and he was operating within Lusaka to gather information about the MMD and the Patriotic Front (PF)."
Sakala said Mr Hamaundu was providing ZAF with information on how Lusaka citizens were planning to organise themselves to repulse the re-election of the MMD.
He said he also gave Ananiah Hlozo about K3,000 to gather information from Makeni residential area in Lusaka where he was staying.
Sakala said other people operating from Lusaka were paid more money which included transport and lodging charges.
"All these were informants of ZAF but in Mr Hamaundu's case I cannot remember who introduced me to him but he was one of the right people to give us the information we needed," he said.
Sakala also said that he gave Yeta and Lopa K500,000 each for the covert operation but the duo did not sign anywhere to prove that they received the money.
And High Court deputy registrar in charge of local courts Wilfred Muma, who sat as principal resident magistrate, told one of Yeta's lawyers Mutakela Lisimba to apologise to Sakala for shouting at him in court.
Mr Lisimba shouted at Sakala when he demanded for a quick response to his question but Mr Muma intervened, saying the defence lawyer was not supposed to shout.
"Despite him being an accused person does not make him subservient to you as an individual. You do not need to shout at him and I think you need to apologise to him," Mr Muma said.
And Sakala told Lisimba not to shout at him or belittle him in court in future either.
At this point Mr Lisimba said, "I apologise to you and ask for your forgiveness. I will not belittle you in court."
The matter comes up on January 17 for continued hearing.
Earlier in mid-trial, Sakala said he would not state how the money was used until he got presidential instructions to lift his oath but the court dismissed the plea.