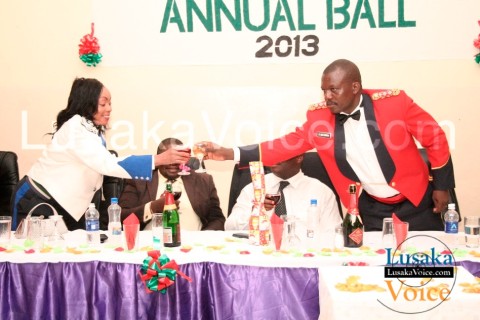 The Men and Women in uniform are always known for a serious service as their mandate is to maintain law and order in a community, town and the country as a whole.
But on a lighter note this festival season, Woman Police Officers in Mongu, Western Province together with wives of their Male counterparts swam in action and celebrated this year's Christmas and New Year in a style.
The officers led by Provincial Police Commissioner Lombe Kamukoshi donated assorted food items, glossaries, school uniforms and Christmas presents for less privileged children at Lilato orphanage in Mongu District.
The women in uniform also adopted Female ward at Lewanika General Hospital where they cleaned and cooked for women patients therein.
And Western Province Police Commissioner Lombe Kamukoshi says the festival season is a time to show love and affection to people in need.
Speaking in an interview, Commissioner Lombe said taking some time off the busy and important task of maintaining law and order to showing love to the less privileged and bedridden in the hospital was a gratifying moment.
Ms. Kamukoshi said Police is always known for receiving hence having a chance to give to the community could not be over emphasized.
And Orphanage overseer Pastor Sikufele Lubinda thanked the officers to together with the Kwazi women for share love with the less privileged children at the orphanage.
Pastor Lubinda said often children in orphanages have been overlooked at in times such as the festival season saying there is need for more people to step up and do something for less privileged children in the District and Province as a whole.
 Meanwhile, Hospital Principal Nursing Officer Tandy Lubasi also commended the Police service and the Kwazi women to choosing put smile patients during this festival season.
T.M.