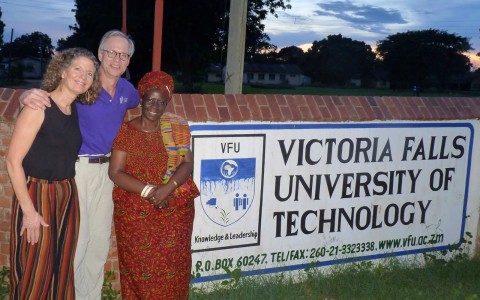 VICTORIA Falls University of Technology (VFU), which is one of Zambia's leading private Universities operating in Livingstone, has continued to be one of the most reputable training institutions in the country.
Its reputation comes from the fact it is the only University of Technology in Zambia while it is strategically located a few minutes from the Victoria Falls, which one of the Seven Natural Wonders of the World.
Further, its location at the gateway to several Southern African Development Community (SADC) countries namely Zimbabwe, Botswana, Nambia and South Africa makes it attractive to international partners such as universities, investors in technology and international organisations wishing to invest in higher education and technology.
Because of this reputation, the university has already benefited from renowned speakers and visiting professors from all over the world such as the US, Japan, the Netherlands and African countries.
The university also offers the most affordable and industry-tailored education in the country while its fees are competetive.
It has already introduced a one-year scholarship for underprivileged students who would like to study at the institution from all 10 provinces of Zambia.
At degree level, the average fee is K4,000 per term and students who are on a scholarship only pay K2, 000 per term.
Another unique feature about the university is that it is the only institution in Zambia which was founded and is currently being run by a woman Getrude Mwangala Akapelwa-Ehueni.
Mrs Ehueni, who recently won the 2013 Africa's Most Influential Woman in Government and Education Sector, is the first woman mathematician in Zambia.
She is also former board chairperson for Zambia Information and Communication Technology Authority (ZICTA) and Board Member for ZANACO as well as the owner and chief executive officer for La Résidence Executive Guest House in Livingstone.
Apart from Mrs Ehueni, VFU has employed the most experienced lecturers who are experienced professionals.
"When you study at the Victoria Falls University of Technology, you are sure of completing your studies within the stipulated period because there is no disruption from unnecessary closures.
The university builds self-confidence to create leaders in their respective communities. We don't only deliver theoretical knowledge but also practical knowledge," Mrs Ehueni said.
She said her university was also unique in that it ensured that all its graduates communicated eloquently and were trained to be entrepreneurs.
So far, all the graduates from VFU have been employed in various sectors of the economy in Zambia.
As a way of supporting the local community in Livingstone, VFU University has established the first Tourism University level School to develop skills in the industry and ultimately support the more than 300 establishments in the tourism sector in Zambia's tourist capital.
The university also hopes to employ more than 500 people within the next five years in its seven different Schools namely.
Mrs Ehueni said providing higher education locally in Livingstone makes it cheaper to Livingstonians who could not afford to travel away from home.
"We want to provide business opportunities to big and small companies in the provision of services, such as building companies, which are doing rehabilitation and building of new infrastructures, cleaning and maintenance, and suppliers of goods and other services.
Our university attracts all those hungry for university education from Zambia and our neighbouring countries to Livingstone," Mrs Ehueni said.
VFU is also unique because of its objective to complement the Government's efforts in growing the higher education sub-sector by using private financing.
"When all the university projects are operational, being operated in partnership with private investors, VFU will afford to maintain its fees at a reasonable level.
The university partners with investors in a various projects to raise funding for the university to avoid dependency," she said.
Another way the university is unique is that the majority of the schools are in sciences and technology which is rare in most institutions of higher learning in Zambia.
The university has thriving schools of education as well as business and finance among others.
It terms of being accessible by different categories of people, Mrs Ehueni said one of the university's objective was to respect diversity.
"We already have in our midst diverse students population including disabled.
Most of our classes are accessible by disabled persons while the remaining classes are in the process of being changed to accommodate the disabled," Mrs Ehueni said.
On the other hand, the university's efforts are in providing a platform for women not only to talk about the problems affecting women but to find solutions and ways of empowering women in general.
The university has since organised a two-day conference on Sustainable Tourism Development through Women Empowerments to be held at Courtyard Hotel in Livingstone on February 20 and 21, 2014 where 300 participants across Zambia are expected to attend.
This conference is in response to one of the conclusions during the 20th session of the United Nations World Tourism Organisation (UNWTO) General Assembly held in Livingstone and Victoria Falls town in August this year where member countries stressed the need to grow tourism.
Among those to attend this conference will be ministers, senior Government officials, chief executes of organisations, prominent businessmen and women, stakeholders in the tourism industry, skills development institutions and representatives from financial institutions among others.
The topics to be discussed during the conference include financing opportunities for women in the tourism sector, the role of women in eco-tourism, opportunities for women in tourism, human skills development for women in the tourism sector, the role of women in game management, tourism marketing, women in community based tourism and barriers to women participation in tourism among others.
"The university would like to organise this two-day conference the highlight the role of women in tourism development.
The February conference will gather women, those who have succeeded, those who are starting, those who have failed and those who are still contemplating participation in Tourism, to share not only the challenges but also provide practical solutions to encourage women participation in the Tourism sector," Mrs Ehueni said.
She said her University would invite institutions and companies which support the tourism sector to provide first hand information regarding their services.
"This year the enrolments grew by 53 per cent and we plan to double the rate in 2014.
We shall increase advertising in all media and mount road shows in most districts in the country in 2014," she said.
On women who usually shun mathematics and other technical subjects, Ms Ehueni noted that the sad part of such a story was that such situations start from early childhood.
"It depends on the initial contact the individual had with the technical subjects. If the first teacher was bad then the individual ends up believing that technical subjects are more difficulty than humanities.
I present myself as a model of a woman who has taken technical subjects all my life and have succeeded. I am an ordinary woman and at our University, we build the personality of individuals to believe in themselves and take any subject they want," Mrs Ehueni said.
Indeed more Zambians should consider studying at VFU because the institution is reputable and it offers affordable and industry-tailored education.
Times of Zambia