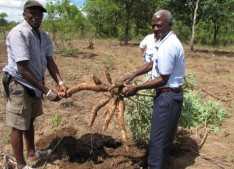 Lundazi District has   started receiving farming inputs under Food Security Pack (FSP) program for 2013/2014 farming season.
Lundazi District Agricultural Coordinator (DACO), Philemon Lungu, disclosed the development to ZANIS in Lundazi yesterday.
Mr Lungu said the farming inputs under Food Security Pack Program started arriving in the district last weekend.
He disclosed that so far the district has received 598 x 50kgs out of the expected 600 x 50kgs bags of D-Compound fertilizer and 640 x50kgs out of the expected 700 x 50kgs bags of Urea fertilizer.
The DACO, however, said the district has not yet received maize seeds of 300 x10kgs, soya beans of 350 x5kgs and sorghum seeds of 50 x2,5kgs.
He added that seeds and remaining 62 x 50kgs fertilizer D-Compound and Urea are expected to arrive in Lundazi before tomorrow Saturday.
Mr Lungu said the program targets to benefit 350 vulnerable but viable people under the categories of orphans, female, male, windowed, child, aged, disabled, unemployed youths and terminally ill headed household.