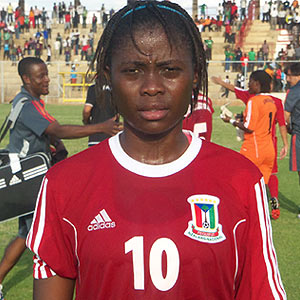 THE Football Association of Zambia (FAZ) has threatened to write to FIFA so that the world football governing body can probe Equatorial Guinea on alleged age-cheating claims.
 FAZ executive member Lenny Nkhuwa, who is also in charge of women football said the association was appalled by the dubious records presented by the visiting team officials of their players.
 Nkhuwa said this in an interview at the weekend after watching Zambia thumped 2-0 in the second round, first leg of the Canada 2014 FIFA Under-20 World Cup qualifier against Equatorial Guinea played at Sunset Stadium.
 She expressed surprise that the reigning African champions, who have players playing at a high level, would be coming to Zambia with nine players having new passports.
 "We are concerned by Equatorial Guinea coming here with so many new passports. So we will ask FIFA to just look into this matter. They are African champions and been to the World Cup before but how passports get to be new for so many players at one time is a worrying matter," she said.
 Despite the defeat, Nkhuwa was happy with the team's performance against a well-travelled and more experienced Equatorial Guinea side.
 "As you saw, our girls are young and worked hard. I am proud of their efforts despite the defeat," she said.
 And coach Charles Bwale remained resolute about his side's chances of making the last round of qualifiers declaring it is far from over.
 "We shall go to Equatorial Guinea and fight. We lost quite fine but what happened here can be undone there. We noticed a problem and after the substitution, we played better, especially in the second half. Overall I am not disappointed with the girls, they fought well and they can keep fighting," Bwale said.
 Equatorial Guinea scored two quick goals in the first half through Olive Christelle in the 16th and 23rd minute to head into the return match set for two weeks time with a comfortable two away goals.
 "We shall go there (Equatorial Guinea) and follow a system that helped us play better after conceding the two goals. The girls will just have to be reminded to play from the ground and not pump those balls upfront which just put us under pressure. We still have a chance and we shall fight on," he said.
Times of Zambia