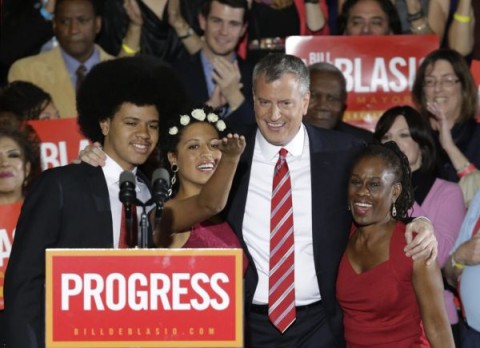 Another milestone is passing in America's racial journey: The next mayor of New York City is a white man with a black wife.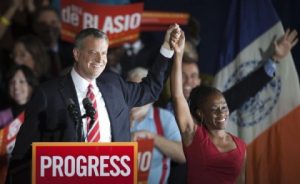 Even in a nation with a biracial president, where interracial marriage is more accepted and common than ever, Bill de Blasio's marriage to Chirlane McCray is remarkable: He is apparently the first white politician in U.S. history elected to a major office with a black spouse by his side.
This simple fact is striking a deep chord in many people as de Blasio prepares to take office on Jan. 1, with McCray playing a major role in his administration.
"It reflects the American values of embracing different races, ethnicities, religions. I think it's just a great symbol," said William Cohen, the former Maine senator and Secretary of Defense, who is married to a black woman.
Cohen was already a senator when he started dating Janet Langhart, a black television journalist. He proposed several times, but she feared that her race would hurt Cohen's political future. They married in 1996, a few weeks after Cohen announced he would not seek a fourth term.
"There has been that fear (of interracial marriage) on the part of politicians. I didn't have it," Cohen said. He noted that a few white politicians have married Latino or Asian women, like former Florida Gov. Jeb Bush, whose wife is from Mexico, or Kentucky Sen. Mitch McConnell, who is married to the Taiwan-born former Labor Secretary Elaine Chao.
There have been black men in politics who have been married to white women, such as Supreme Court Justice Clarence Thomas or former Massachusetts Sen. Edward Brooke. And high-profile women such as South Carolina Gov. Nikki Haley, whose parents are from India, and Mia Love, the black mayor of Saratoga Springs, Utah, are married to white men.
Yet unions of white men and black women have retained a forbidden aura, Cohen said.
"It's black and white, it's slavery and Jim Crow and the fact you can't talk about it," he said. "Black and white has been more of a taboo in the eyes of enough people to be a deterrent."
The taboo is declining, polls show.
In July, a Gallup poll found that 87 percent of Americans approved of interracial marriage — the highest rate ever — compared with 4 percent in 1958. In 2010, more than 15 percent of all new marriages were interracial, according to the Pew Research Center.
Yet statistics also indicate why de Blasio and McCray are such a rarity.