TAZARA receives six new diesel electric locomotives worth USD 24m  from China.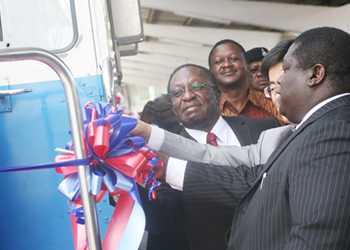 According TAZARA Acting Managing Director Eng. Ronald Phiri the SDD 20 locomotive are fitted with some of latest technology in diesel locomotives to improve their power.
He said the new SDD 20s which are replacing some of the aged and less powerful UC30s, are expected to generate not less than 80 percent of the authority's revenue.
They are part of the project to revamp the railway in which Chinese government has invested large amount of resources and is further preparing for the reconstruction and reform of TAZARA.
"The company's full potential has never been fully harnessed due to capacity constraints," he noted adding that the constraints are caused by poor availability and reliability of locomotives, wagons and other equipment.
Phiri said the authority still needs refurbishment of infrastructure and further injection of equipment such as coaches, rescue cranes, wagons and shunting locomotives.
He said: "These needy areas have been thoroughly highlighted and are actively receiving the attention of the board of directors and the shareholders".
For his part, the Minister for Transport, Dr Harrison Mwakyembe said it was time now that TAZARA operated on its own without depending on subventions from the shareholders, adding that the tendency of the company to depend on the governments was wrong.
Mwakyembe said TAZARA must operate more commercially to overcome its dependency on the governments even for salaries to pay its workers.
He added that the shareholders plan to make sure that TAZARA becomes one of the most reliable railways in Southern Africa, operating more profitably and serving the market in the region.
Meanwhile, Zambia Transport, Supply and Communication Minister, Yamfwa Mukanga said TAZARA's problems are not due to lack of qualified personnel, education, or equipment.
He noted that the problems of TAZARA are well known and there are counties in Africa that have managed to solve them, calling on the Authority to learn from them.
Since the completion and hand-over of TAZARA IN 1976, technical assistance between the Chinese, Tanzanian and Zambia governments has never stopped. Until now, China government has dispatched over 2,846 experts, and contributed a total of USD 263m as technical aid.