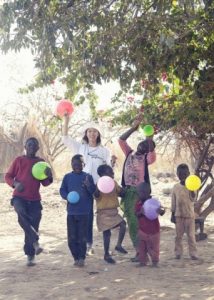 Jun Hye Bin's visit to Zambia will be aired through '2013 Hope TV SBS' on the 15th and 16th of November.
In last July, actress Jun Hye Bin and international development NGO Good Neighbors flew to Zambia and did voluntary work for children.
During the stay, Jun spent entire time with little children by cooking foods for needed children and visiting school to communicate wholeheartedly. Jun especially cooked Zambia's traditional food Nshima and fed babies who can't eat by themselves.
A visit to Africa is not the first time for Jun Hye Bin. Previously, she was starred on SBS' entertainment program 'Rule of Jungle' and went to Madagascar through the show. According to Jun, she thought Africa would be more familiar since she already made a visit, but the actress was very shocked to see how children live in such uneasy condition.
After her voluntary service was over, she said, "The dream of Zambian children is not something big. They only wish to study and we can all be helpful to make their dreams come true."
Meanwhile, '2013 Hope TV SBS' in which Jun Hye Bin is starred will be aired on November 15 and 16 in 11 episodes. (photo by Namoo Actors)
SOURCE : http://ph.omg.yahoo.com
MORE ABOUT Jeon Hye-bin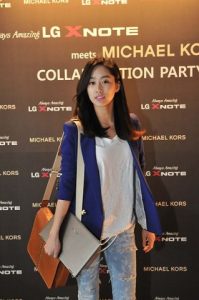 Jeon Hye-Bin (Hangul: 전혜빈; born September 27, 1983) is a South Korean actress and singer known as BIN. Her career started as part of a girl trio named LUV, and later found mainstream success in 2005 as a solo artist. Her single, "2AM", was frequently performed, as it showcased her sexy dance abilities. However, Jeon came under heavy criticism for being overtly sexual in performances, and moved onto a second single "Bin-Go", which showed a cuter, less sexual image.  
Career
2002-2003: Debut and LUV
Main article: LUV (South Korean band)
She debuted one of the three members of the girl group LUV. LUV's career started when they appeared as singers in JTL's "A Better Day" in 2002. The group's popularity grew enough that they were being compared with S.E.S. because many saw huge potential in them. However, the group did not last long due to each member expressing their own dreams.
2006-2007: Solo career and accident
On January 21, 2006, Kim Jong Kook, Jeon Hye-Bin, and Im Tae Kyung participated in Thuy Nga's Paris by Night 81 concert in California. Jeon performed "2AM". An accident in early 2006 forced Jeon to have surgery done, and under the advice of others, she underwent nose and teeth reconstruction. She eventually confirmed that she underwent plastic surgery when rumors were quickly spreading about the change in her appearance.  She appeared as one of the six women on Heroine 6, a popular segment on the Korean Broadcasting System (KBS) variety show Happy Sunday until it ended in 2007.
2008-2009: Acting Career
At a press conference in 2008, Jeon stated that she will be focusing on her acting career. 
Filmography
TV Dramas
2003: Nonstop 3 (MBC)
2003: Sang Doo! Let's Go To School (KBS)
2005: Banjun Drama (SBS)
2005: Only You (2005 TV series) (SBS)
2007: Witch Yoo Hee (SBS)
2007: The King and I (TV series) (SBS)
2008: The Scale of Providence (SBS)
2009: He Who Can't Marry (KBS)
2009: Hometown Legends "Fox with Nine Tails" (KBS2)
2010: Drama Special "The Angel of Death Comes With Purple High Heels" (KBS2)
2010: Yaksha (OCN)
2011: My Love By My Side (SBS)
2011: Queen Insoo (jTBC)
2013: Queen of the Office (KBS)
Films
2004: Dead Friend
2005: Wet Dreams 2
Music Videos
Jang Woo Hyuk – "Flip Reverse"
Brian Joo – "Living a Day in Winter"
MC The Max – "Thorn Fish"
Someday – "Do You Know"
UV (유브이) – "I Want To Live With Her" Ft. Yoon Do Hyun
Modeling