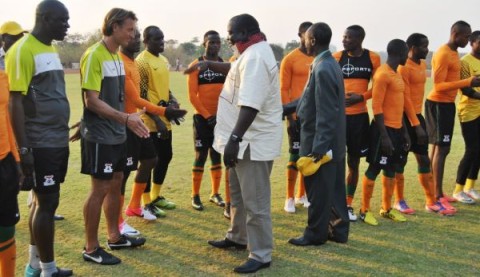 NATIONAL associations and individuals have welcomed the appointment of the new Sports Council of Zambia (SCZ) Board.
Sports Minister Chishimba Kambwili announced the appointment of the five board members to be led by veteran sports administrator Mwamba Kalenga who takes over from Chifumu Banda.
Others who were appointed together with Kalenga are former Football Association of Zambia (FAZ) president Michael Chiti, Zambia Table Tennis Association (ZTTA) patron Haroon Ghumra, Godfrey Ndunda from the Zambia Rugby Union (ZRU), Clementina Lwatula, a healthcare practitioner and director of sport, Bessie Chelemu.
The five join the seven elected board members who include Smart Mwitwa, Matilda Mwaba, Chabby Chondoka, Emmanuel Katebe, Deirdre Allison, Joseph Silwamba and late Ian Mbewe, who were voted into office in June this year.
FAZ general secretary George Kasengele said in an interview yesterday that the football fraternity was pleased with the new appointments, saying they were capable of discharging their duties professionally.
Kasengele said FAZ was happy to have a voice in the Council through the appointment of its life members Kalenga and Chiti.
"For too long football has not had a voice in the Sports Council. We are happy that our life members are on the board and we hope they will pay attention to the sport of football especially among the youths, otherwise we welcome the board," he said.
Zambia Golf Union (ZGU) president Charles Mwanza said the board comprised experienced sports administrators who cut across various sports disciplines, adding that the union expected the new board members to address the financial challenges that sports associations were facing.
"We expect the board to assist us and other bodies in managing sports programmes. We are confident they will perform as expected," he said.
And the Zambia Rugby Union (ZRU) said it was proud to have two of its members sitting on the board.
ZRU acting president, Owen Mhango said the development was a clear indication that the Union was doing the right thing to develop the sport of rugby in the country and urged the SCZ board to pay particular attention to all sports bodies and ensure that support was equally distributed.
Zambia Tennis Association (ZTA) president Francis Musonda was also full of praise for the new board, but made a passionate appeal for increased support to minor sports.
Zambia Amateur Swimming Union (ZASU) president, David Thompson has said the Minister made a wise choice in appointing Kalenga as chairperson of the SCZ board.
Thompson said in Lusaka yesterday that Kalenga and all the others who were selected to sit on the board were the right candidates who had a lot to contribute to the Council.
He said his Union would give its full support to the SCZ and would not hesitate to run to it for support and advise anytime they were in need.
And former world 400 metres hurdles champion, Samuel Matete lauded Sports Minister Kambwili for appointing Kalenga and the rest of the board saying he had every hope and trust that Kalenga with his vast experience in sports administration will improve the welfare of sports in the country.
He said he was sure Kalenga being a democrat and a man with a vision, will take sports development to a higher dimension, especially that the board had a composition of old and new faces.
He said having successfully hosted the Zone Six Supreme Council for Sports in Africa (SCSA) Under 20 Games last December, Zambia was being recognised internationally and was hopeful that the country's bid to host the 2019 Africa Cup of Nations (AFCON) football tournament and other international sporting disciplines, will be a success with a vibrant Council.