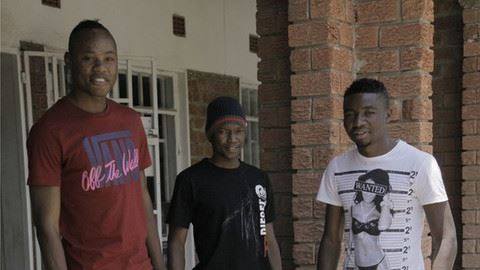 By STEPHEN PHIRI, NKWETO MFULA and CHISHALA MUSONDA
THE Immigration Department yesterday detained TP Mazembe Zambia internationals Rainford Kalaba, Nathan Sinkala and Stopilla Sunzu for allegedly contravening the immigration exit procedure.
The three players were nabbed at Kasumbalesa border.
The Chipolopolo stars were later taken to Ndola to appear before the regional immigration officer.
The players were accompanied by Tom Chani.
Kalaba confirmed their arrest in a telephone interview from Chililabombwe yesterday.
"When we reached the border we were told that we cannot cross into Congo. The officers told us that we needed to appear before the regional immigration officer for crossing into Congo illegally. As I speak to you, we are being driven to Ndola," Kalaba said.
He said he and the other two players were in high spirits despite the ordeal.
And an officer, who sought anonymity, said the three players have been on the Immigration Department wanted list for the last five days.
"We are taking them to Ndola. That all I can say for now," he said.
When word went round across the border that the three players were detained, TP Mazembe fans expressed disappointment.
The fans said they three players were important to TP Mazembe's ambitions of qualifying for the final of the Confederation Cup.
TP Mazembe face Stade Malien of Mali today in the semi-final return leg in Lubumbashi.
Earlier in an interview, the three players denied contravening the immigration exit procedure.
Kalaba said he has been in the country since last Saturday.
The three players were in Lusaka last Saturday in the company of TP Mazembe Zambia representative Andre Mtine, who maintained that the Chipolopolo stars were unfit for Tuesday's international match against Brazil in Beijing, which the South Americans won 2-0.
"The reason I have called you Steve (author) is to inform the nation that I have been in Ndola since last Saturday. After the press briefing at Golfview Hotel in Lusaka we were tipped that they will not allow the plane to fly back to Lubumbashi.
"Stopilla and Nathan remained in Lusaka and I travelled home to Ndola. I have been in Ndola and I have been reading the stories carried on us by the newspapers. I and my friends cannot sink so low to use illegal means to go back to Congo," he said.
Kalaba said his travel document was stamped in Lubumbashi and at Kenneth Kaunda International Airport.
Asked why they did not appear in public to counter the Immigration Department's claims that they had crossed the border illegally, Kalaba said he and his colleagues were afraid that Zambians could beat them.
He maintained that he was unwell.
"I really wanted to play against Brazil but I could not because I had malaria. Playing against Brazil is every player's dream. I have played for my country for a long time and I will continue to do so in future.
"I love playing for Zambia and I am a patriotic Chipolopolo player," said Kalaba, who is fondly known as Master by his national team colleagues.
And Sunzu wondered why they were being accused of using illegal means to cross into Lubumbashi.
"I have been in Zambia since last Saturday. At no time did we go back to Congo. Why should I go back to Lubumbashi using illegal means? I always use the border when entering or leaving Zambia," he said.
Sunzu said he had a knee problem, hence not featuring for Zambia during the match against Brazil.
"I was not fit, I had a knee problem. Even a person gets sick and when you are sick you cannot do anything. If you are sick and you force yourself you can fail on the pitch," he said.