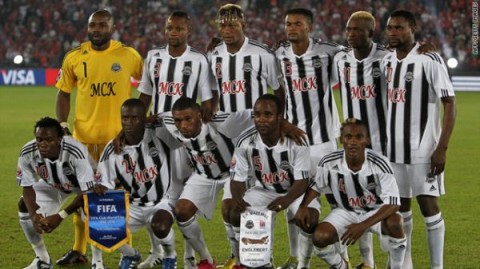 THE Immigration department yesterday apprehended Democratic Republic of Congo (DRC) TP Mazembe Zambian representative Andre Mtine on allegations of contravening immigration regulations.
And Minister of Youth and Sport Chishimba Kambwili has called on the three TP Mazembe Zambia internationals Stopilla Sunzu, Rainford Kalaba and Nathan Sinkala to present themselves to the Immigration Department.
The department on Monday issued an arrest warrant for the three players for the alleged breach of immigration regulations.
Mtine was apprehended at Total Service Station along Buteko avenue in Ndola around 12:30 hours and taken to the regional immigration offices.
A check by the Sports Mail at the immigration offices found the former Football Association of Zambia  (FAZ) treasurer being interrogations by two officers.
Mtine appeared calm and exchanged greetings with the author as he was being moved to the regional immigration officer for further questioning.
The department's public relations officer Namati Nshinka confirmed that Mtine was taken into custody at the regional immigration in Ndola.
"I can confirm that Mr Andre Mtine [who] was picked up at Total Service Station on Buteko avenue to assist us on what exactlytranspired in the matter that everyone knows.
"A statement is being recorded from him. He has not been arrested yet," he said.
Nshinka said the purpose of questioning Mtine was to help and establish on the 'never-seen players' since Saturday before the immigration department can establish a case or not.
The three players are alleged to have traveled back to Lubumbashi without undergoing formal immigration rules at the point of exit.
Kalaba and Sinkala were reportedly diagnosed with malaria with Sunzu
suffering a recurrence on his troubled right knee.
Mtine was in the company of the three players last Saturday in Lusaka and told journalists that the players were unfit for Tuesday's international friendly against Brazil which the Chipolopolo lost 0-2.
Mtine was later released. Meanwhile, Kambwili said in an interview in Lusaka yesterday that there is need for Sunzu, Kalaba and Sinkala to hand themselves over to the immigration department.
"If a President and an ordinary Zambian can be penalised for not obeying the law, who is a footballer?" Kambwili asked.
He also implored the players to publicly apologise for the offence.