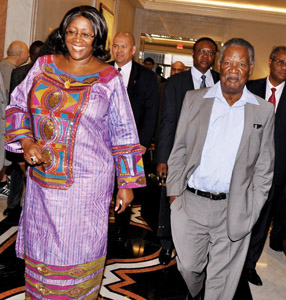 PRESIDENT Michael Sata has urged striking nurses at the University Teaching Hospital (UTH) in Lusaka to resume work immediately.
Mr Sata urged the striking nurses, pharmacists and midwives to go back to work immediately, stating that the Government was handling their matter competently.
He said this in a statement issued by State House Special Assistant for Press and Public Relations, George Chellah in Lusaka yesterday.
Meanwhile, nurses at UTH have resolved to call off their work stoppage following a stakeholders' meeting convened by the ministries of Health and Labour, and the Health Workers Union of Zambia (HWUZ).
The meeting was attended by Labour Minister Fackson Shamenda, his Health counterpart Joseph Kasonde, UTH managing director Luckson Kasonka and HWUZ representatives.
Commenting on the conduct of opposition UPND leader Hakainde Hichilema, who urged striking medical staff to press on with their demands, Mr Sata said Mr Hichilema was acting like a "merchant of death."
"We wonder how Mr Hichilema expects the Zambian people, particularly the relatives and friends of those suffering as a result of the strike to vote for him, if he is in the forefront of cheering the striking workers," he said.
The President said it was disheartening that someone vying for the Office of President could embark on a 'cruel and self-centred' mission of encouraging striking health workers.
"Mr Hichilema's cheap attempt to gain political mileage from strikes when multitudes of our people's lives are at stake is not only regrettable but callous. This level of self-centredness and desperation should be avoided by leaders, especially those seeking public office," he said.
And Government has said it will press normal charges of absenteeism in accordance with established procedures on nurses and midwives at UTH who have continued with the illegal work stoppage.
Dr Kasonde said yesterday in a ministerial statement that there was currently no declared industrial dispute, hence the work stoppage was illegal.