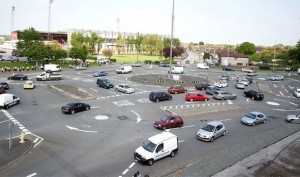 THE news that a duck pond traffic island at Otford near Sevenoaks in Kent has been named the best in Britain by the UK Roundabout Appreciation Society has thrown a spotlight on one of our most unlikely, yet thriving, exports.
It's a little over a century since the UK's first circular junction was introduced at Letchworth Garden City in 1909. And since then thousands more have been installed up and down the country and around the globe.
The US took longer to adopt the quirky interloper but over the past decade or so it has been replacing traffic lights with roundabouts faster than you can say multi-exit junction.
At the turn of the millennium it had a few hundred roundabouts nationwide but now has 3,000. This can probably be attributed to the fact that all the research shows that circular junctions are a lot safer than crossroads governed by traffic lights.
According to the American Department of Transportation, replacing crossroads with roundabouts can result in a 90 per cent fall in the number of deaths, a 76 per cent reduction in injuries and a drop of 35 per when it comes to crashes.
Such collisions that do occur are likely to be less serious. You can always shoot a red light at speed but even the rashest boy racer needs to slow down to negotiate a roundabout.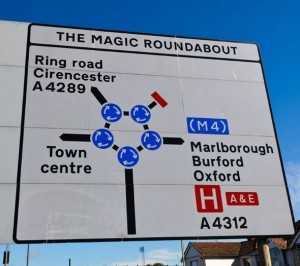 Couple that with the fact that crashes tend to involve sideswipes rather than head-on collisions and the argument for roundabouts over crossroads becomes more compelling still.
In addition to being safer than traffic lights they are also greener. Not only does it take more than £60,000 a year to power and maintain a set of traffic lights, according to The Economist magazine, they also force drivers to stop and start more often with inevitable consequences for fuel consumption. Hard facts aside, no history of the British roundabout is complete without paying homage to the proselytising role played by Kevin "Lord of the Rings" Beresford, founder and president of the UK Roundabout Appreciation Society (UKRAS).