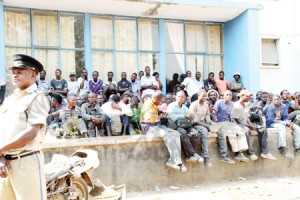 POLICE have arrested 300 over illegal land allocation in Lusaka West in what is the biggest crackdown on the vice in recent years.
They have been charged with criminal trespass and will appear in court tomorrow, police have said.
Police acting spokesperson Rae Hamoonga said the group was trespassing on land belonging to Trishul Farms and other surrounding areas. They were demarcating it for residential plots.
"This is the biggest operation conducted this year and we would like to prove our critics wrong over allegations that we have not been working hard to arrest trespassers," he said.
Mr Hamoonga said it is criminal trespass to "invade" someone's land. He added that if people have land disputes, they should resolve them in courts of law.
He said police are inclined to protect those that have title for their land.
Mr Hamoonga has warned that all those with intentions to trespass on other people's land would be "dealt with sternly by the law".
He said if people want to be violent, police will meet them head-on as it has enough manpower to ensure anarchists are brought to book.
In the operation, police confiscated shovels and picks from the trespassers who were on Trishul Farm.
Issues of land grabbing have been rampant in the last few months.