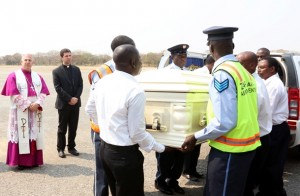 THE body of Medardo Cardinal Joseph Mazombwe who died last Thursday was yesterday flown to Chipata to enable Christians and other residents of Chipata pay their last respects.
The casket carrying Cardinal Mazombwe's remains was flown to Chipata by the Zambia Air Force (ZAF) plane, which took off just before 10:45 hours from City Airport in Lusaka.
The plane touched down at Chipata Airport around 12:30 hours and was received by scores of family members and other Christians in readiness for a funeral mass at St. Anne's Cathedral grounds starting at 15.00 hours.
The body of the Cardinal will then lie in state, overnight in the cathedral to enable Christians and other residents of Chipata pay their last respects till the early hours of today [Monday].
It was accompanied by 30 people, among them eight priests, two sisters from Congregation of Sisters, which Cardinal Mazombwe founded, four family representatives and his close friend, former Chief Justine Ernest Sakala.
Zambia Episcopal Conference (ZEC) secretary general Cleopas Lungu and Archbishop of Chipata diocese Bishop Lungu also accompanied the body.
Scores of family members, student priests and Vatican representative in Zambia, Apostle Nuncio Julio Murat, saw off the body.
A somber mood characterised the airport as the body was being taken to the plane.
Grandnephew of Cardinal Mazombwe, Almond Sitima, told journalists at City Airport that the offer by government to fly the body to Chipata was an extension of friendship to his family.
"There are a lot of people from the family and Chipata Diocese who wanted to come here [Lusaka]…as you may know he spent about 26 years as Bishop of Chipata…but government, which we are very thankful, extended a helping hand and flew the body to that side," he said.
He said the body of Cardinal Mazombwe was flown to Chipata after the family members did body viewing at the Cathedral of Child Jesus.
Pope Benedict XVI named the Emeritus Archbishop of Lusaka,  Medardo Joseph Mazombwe, as Zambia's first indigenous Cardinal at a public consistory held in St Peter's Basilica, at the Vatican on November 30, 2010.
Cardinal Mazombwe held several senior positions in the local and regional church, including that of Zambia ZEC president (1972-1973; 1988-1990 and 1999-2002) and chairman of the regional conference of the Association Member Episcopal Conference in Eastern Africa (AMECEA) (1979-1986).