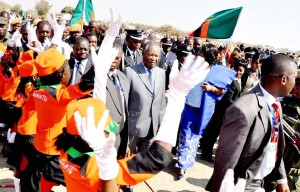 THE just ended 20th session of the United Nations World Tourism Organisation (UNWTO) co-hosted by Zambia and Zimbabwe has marked a clear turning point in the tourism fortunes of the two countries, the Southern African Development Community (SADC) region and the African continent.
Undoubtedly, an indelible mark and a generational legacy will remain in the memories of citizens living in two countries and the rest of the continent.
This is so because of a number of benefits that this event has brought to the two host countries.
Livingstone was a hive of entertainment activities, free-health check-ups, sporting events and other exciting programmes in various parts of the city besides the actual meetings for the UNWTO General Assembly.
For the first time in the history of the organisation, participation levels of the 20th session of the UNWTO General Assembly have been the highest ever in the history.
The 2013 General Assembly attracted 121 out of 156 member countries, a total of 145 countries, more than 750 delegates and more than 900 delegates from the media and the private sector while 49 ministers attended.
According to UNWTO secretary general Taleb Rifai, participation levels at this year's conference co-hosted in Zambia and Zimbabwe are by far the highest in the history of the General Assembly.
One could probably speculate and attribute the huge number of participants to the fact that delegates were keen to the visit Victoria Falls destination, which is one of the seven natural wonders of the world.
Previously, some countries were not sure about the exact position of the Victoria Falls and so it was important for many delegates to visit the two countries and get a correct picture.
Clearly, the historic huge attendance of the event was an endorsement of the two countries as a preferred destination for tourism.
It therefore, implies that the Victoria Falls destination and the two countries in general have become must-see tourism destinations around the world.
Some of the issues discussed during the general Assembly were on visa facilitation and entry formalities, air connectivity especially on the African continent and small islands and developing countries.
On visa facilitation, SADC chairperson Joyce Banda presented a policy statement during the Ministerial Roundtable meeting held at Elephant Hills in Zimbabwe where she pledged to to push the issue of uniform visas in the regional body.
Ms Banda, who is Malawi President, made the assurance during the meeting which was attended by Vice-President Guy Scott and Tourism and Arts Minister Sylvia Masebo among others.
She congratulated Zambia and Zimbabwe for co-hosting an important event which was a success to SADC and the rest of Africa.
Delegates debated on the importance of youth tourism, infrastructure development and tourism financing.
"We noted that about 300 million travelers are classified as young travelers and therefore, it was important that this category was supported.
"Youth travel is of tremendous importance and do not demand very high luxurious infrastructure when they travel. They are very good travelers," Dr Rifai said.
Further, delegates re-elected Dr Rifai as Secretary General of the UNWTO for the next four years from 2014 up to 2017 while the organisation's budget and programme of action was also adopted.
Colombia also won a bid to host the next 21st session of the UNWTO General Assembly to be held in 2015.
Zambian President Michael Sata his Zimbabwean conterpart President Robert Mugabe officiated at the opening and closing ceremonies of the 20th session of the UNWTO General Assembly at Victoria Falls Hotel and Royal Livingstone Hotel respectively in the two countries.
President Sata said the outcome of the 20th session of the UNWTO General Assembly had opened up new and enormous possibilities for member States to make tourism contribute to the development of their economies and in the process, improve the livelihoods of communities and individuals.
He said Zambia would undertake follow-up activities to benefit from the decisions and recommendations of the General Assembly.
"I am proud to state that my Government is focused on improving the tourism sector's competitiveness by streamlining the regulatory environment and putting in place tax incentives aimed at promoting growth and investments," he said.
Mr Sata said the 20th session of the UNWTO General Assembly came against the background of a global realisation that tourism was a sector of significance and importance, with great potential in contributing to the wealth of nations.
He said his Government was investing in the construction of roads, rail, airports, border facilities and information and communication technology infrastructure which would facilitate the opening up of more tourist sites in the country.
Mr Sata said the co-hosting of the tourism conference by the two countries was a clear testimony of the countries' commitment to exploiting the regional potential of the tourism sector.
He said a well-designed and managed tourism could make a significant contribution to sustainable development, create decent jobs and generate trade opportunities for the countries.
"In this vein, I wish to call for increased support for sustainable tourism activities and relevant capacity building that promote environmental awareness, ecosystems and cultural diversity, and improve the welfare and livelihoods of local communities by supporting their local economies and the human and natural environment as a whole.
Your excellencies, Ladies and Gentlemen, I would like to conclude by acknowledging the hard work and dedication that our two host ministries have put in organising this gathering. You have done a commendable job and I congratulate you all," Mr Sata said.
He also congratulated Dr Rifai on his re-election as the secretary general for the next four years.
And President Mugabe said it was a priceless pleasure for the people of Zambia and Zimbabwe to have played host to the 2013 UNWTO General Assembly.
He urged UNWTO delegates to become worthy ambassadors to spread the message about Zambia and Zimbabwe's tourism.
Mr Mugabe said delegates should also spread the majestic drum beat sounds loudest and most alluring Victoria Falls, which remained one of the world's wondrous monuments.
"You are free to stay as long as you want and you will be very safe. We are not terrorists. We don't kill people.
"There was a posting on the internet posted from London that a bomb was planted but the general assembly took place peacefully and successfully," Mr Mugabe said.
He was also surprised that there was a warning from Washington given to prospective visitors that visiting Victoria Falls is dangerous.
"Ladies and gentlemen, you are now our ambassadors to tell the truth. We seek no harm to others, we seek
cooperation, peace and not war in Africa, we seek good neighbourliness and respect for each other territorial integrity.
"May those of our neighbors who regard themselves as superior recognise that small as we are, God has given us the fortunate of our wealth, nature and wonders in our country and there is no greater dream and wonder than the natural mighty dream of the Victoria Falls," Mr Mugabe said.
He said those who would want to see harm rather than peace should visit the Victoria Falls and they would have their minds repaired at Victoria Falls.
Zambia Tourism Board (ZTB) managing director Felix Chaila said major airlines and a number of Zambian embassies abroad were experiencing a higher demand of people wishing to visit the country following the successful hosting of the UNWTO General Assembly.
Mr Chaila said during a ZTB luncheon hosted for UNWTO General Assembly delegates that several major airlines abroad as well as Zambian embassies had recorded an increase on people wishing to visit the country.
"Major airlines and a number of Zambian embassies abroad are currently experiencing a higher demand of people wishing to visit Zambia.
"I am told the demand for Zambian visa has gone up and I am optimistic that our reputation has already been seen from what we hear," he said.
Statistics indicates that any country which hosts UNWTO General Assembly registers an increase in terms of tourists arrivals after the event.
Mr Chaila noted that before South Africa hosted the 2010 world cup, it was known as a destination full of crime but the country's reputation changed after it successfully hosted the World Cup.
Similarly, Mr Chaila said Zambia was being viewed differently across the globe as the country's reputation has gone up after hosting the 20th session of the UNWTO General Assembly.
He said ZTB hosted the lunched for UNWTO General Assembly delegates so that it could sell Zambia as a preferred tourism destination.
"We gave CDs, brochures and promotional materials to UNWTO General Assembly delegates so that they can consider coming back to Zambia when they go back to their countries.
"ZTB also has a pavilion for tour operators, car hire, aircraft hire, coffee growers and hotel accommodation among others.
"So if any delegate wants to take a holiday in any part of Zambia, a reservation can be made right from here," he said.
Mr Chaila said ZTB was hosting a consortium of international media such as BBC, E-news, as well as outlets from Italy and United States to sample Zambia's tourism and write stories afterwards.
And in a separate interview, Zimbabwe Tourism Authority (ZTA) chief executive Karikoga Kaseke said the UNWTO General Assembly had endorsed the Victoria Falls destination as an attractive tourism destination.
"A lot has been said before about Zimbabwe but after successfully hosting this event, who can say Zimbabwe is not a safe place when the whole world under UNWTO was here?
"Our marketing will be much easier now because we have been endorsed. We now want to move forward and brand by coming up with marketing strategies in line with the endorsement of the UNWTO," Mr Kaseke said.
He also called for the liberalisation of air transport and avoid policies which injure the tourism industry.
Indeed the hosting of the 20th UNWTO General Assembly has left clear turning point in the tourism fortunes of Zambia and Zimbabwe.