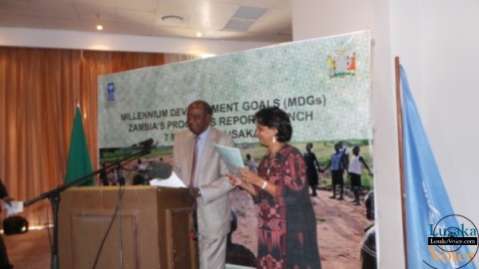 POVERTY remains one of the many challenges Zambia faces today especially in rural areas with 60.5 per cent of the population living below the poverty datum line.
Despite consistent positive economic growth, rural poverty still stands at 77.9 per cent and it is three times higher than that in urban areas which stands at 27.5 per cent, this is according to the Ministry of Finance statistics.
The high levels of poverty in rural areas have been driven by many factors such as low investment in rural development which has led to low productivity.
Disparities and growing inequalities between the rural and urban areas have necessitated the need to have a comprehensive rural investment programme.
The high levels of poverty in rural areas could be attributed to the form of employment which is pervasively subsistence agriculture characterised by low productivity, poor technology and low disposable incomes at household levels.
In the health sector, the rural areas continue to be more disadvantaged as compared to the urban areas owing to a number of factors such as inadequate infrastructure.
For instance, the immunisation coverage in rural areas stands at 66 per cent compared to the urban rate of 71 per cent.
Further, the number of deliveries conducted by skilled personnel in rural areas is at 31 per cent compared to 83 per cent in the urban areas indicating a huge disparity.
Furthermore, most of the deliveries at 66.5 per cent in rural areas are conducted in homes while most of the deliveries about 79 per cent in urban areas are done in health facilities.
Education and skills development
In the education sector, the rural areas continue to lag behind the urban areas in terms of adult literacy, school attendance, and gender parity.
In this regard, to adult literacy, or the ability to read and write, the rural areas still lag behind the urban areas.
As indicated, while 94 per cent of the urban population is literate, only 74 per cent of the rural population is literate, a situation which calls for measures biased towards rural areas.
In terms of attendance, 85 per cent school going children in the urban areas attend school while the percentage in the rural areas is at 67 per cent indicating a need to intervene in the rural areas as well as sustain and improve the school attendance in urban areas.
The Gender Parity Index (GPI), which is the ratio of the enrolment of girls to that of boys and an indicator of how equity is being addressed, shows a bias towards boys in the rural areas as compared to the urban areas.
The GPI in rural areas stood at 90 per cent indicating that for every 100 boys enrolled in schools, there were 90 girls enrolled.
However in the urban areas the situation was different as the GPI stood at 102 per cent indicating that there were more girls enrolled in school than their male counterparts
Agriculture
In Zambia, most rural households subsist on small scale farming for their livelihood.
However, the productivity of these small scale farmers is lower compared to the large scale farmers.
This low productivity poses a threat to food security and affects their income leaving them in the poverty cycle.
Small scale farmers cultivate over 1.2 million hectares of maize.
If their yield rates were at the level of large scale counterparts, then their production would be at six million metric tonnes of maize instead of the current 2.5 million metric tonnes.
At this higher level of productivity incomes of small scale farmers would increase by 140 per cent which would place them above the poverty datum line.
The situation indicates the need to scale up interventions targeted at increasing the yield rates of particularly the small scale farmers.
Energy Sector
Access to energy services is key to accelerating national development, poverty reduction, and sustainable economic growth.
While national access to electricity is low at 21.6 per cent, the situation is worse in rural areas with 4.5 per cent of the population having access to electricity compared to 53 per cent in the urban areas.
In rural areas the source of energy are predominately inefficient and environmentally unsustainable such as firewood, kerosene, and charcoal.
The use of alternative sources of energy such as bio-fuel and solar remains very low
Water Supply and Sanitation
At national level, 62 per cent of the households had access to safe drinking water.
The proportion of households with access to safe drinking water is higher in urban areas at 84 per cent compared to 50 per cent in rural areas.
With regard to sanitation, one third of Zambian households had access to improved sanitation facilities.
The use of flush toilets is largely an urban phenomenon with 34 per cent of urban households using flush toilets compared to only one percent of rural households.
Whilst the majority of both rural and urban households use pit latrines, the proportion of those without slabs is greater
The high levels of poverty in rural areas can be attributed to a number of factors such as poor provision of social services, poor infrastructure, high cost of doing business and inefficiencies in public expenditure.
Poor service provision
Rural areas are characterised by poor access to healthcare which has an effect on labour productivity.
Agriculture, the mainstay for the rural economy has been the most adversely affected sector in this regard.
Poor access to education, especially at the tertiary level, has led to increasing scarcity of specialised skills and also constrains private investment in rural areas.
Absence of social protection nets, particularly for the elderly has also led to high poverty levels.
Poor Infrastructure
Inadequate infrastructure is another constraint to the development of rural areas.
These include inadequate supply of electricity due to slow progress in rural electrification which has resulted in only 4.3 per cent of rural households accessing electricity compared to 52.7 per cent in urban areas.
In addition, the quality of road infrastructure in rural areas is poor due to among other things lack of regular maintenance.
The absence of well developed rail and inland water ways has also inhibited rural development.
Coordination failures
There is poor coordination and information flow among key actors and stakeholders in the delivery of services targeted to rural development which has led to failure to register significant impact on rural development.
In addition, Poor business linkages between anchor industries, and the agriculture sector has inhibited development of rural areas thereby excluding the majority of the poor from the benefits of high growth.
High cost of doing business
Transportation and telecommunications costs in Zambia are among the highest, leading to a significantly higher cost of doing business compared with other countries in the region which has led to low levels of investments in rural areas.
High interest rates and limited access to affordable financing have also reduced business competitiveness, particularly in the case of small and medium enterprises.
The high cost of finance poses serious limitations on the ability of businesses to enter the market or expand their operations.
Inefficiencies in public expenditure
Poor management and implementation of projects has affected development of rural areas.
Experience in the past has demonstrated significant weaknesses in planning and implementation of Government projects.
However, Government wants to change the status quo as outlined in the Draft Revised Sixth National Development Plan (R-SNDP) 2013-2016.
AS a result of the change of Government in September 2011 from the MMD to the Patriotic Front (PF), there arose a need to refocus Government development priorities to be in context with the new administration policies and manifesto.
The R-SND is a medium term plan that is mainly aimed at refocusing Government priorities and policies to be in line with Patriotic Front development agenda.
The document is primarily an investment plan which focuses on capital investment areas with a bias to rural development and job creation.
On Wednesday. the Times of Zambia looked at the job creation aspect; by explaining how Government intends create employment, especially for the youths.
But today, the focus is rural development which aimed at ensuring that the development interventions in the various sectors take into account the rural urban divide.
So during the planned period, Government will scale up interventions aimed at accelerating rural development in order to improve the people's living standards by promoting agricultural development, rural enterprise and provide support infrastructure in rural areas.
New avenues of employment, including promoting security of land tenure; access to credit; training of labour and promoting entrepreneurship would be encouraged.
Emphasise would be put on the need to coordinate integrated rural development programmes to ensure equitable distribution of resources and service delivery and stimulating progressive existing knowledge systems.
This has resulted in wastage of public resources, and has led to substantial delays in project completion due to poor costing and specifications, insufficient funding or low absorption capacity, and an escalation of cost of materials over time.
Goal
Increase equitable access to quality services in the rural areas through a well coordinated mechanism in the provision of physical infrastructure and social services in a participatory and inclusive manner.
Policy Direction
In order to attain sustainable development, bridge the rural urban divide, and improve livelihoods of the rural population, emphasis will be placed on strengthening coordination among various players.
Strategic Focus
During the Plan period the focus will be on investment and increasing employment opportunities
in rural areas and key infrastructure development particularly roads, education, health, housing, agriculture, water and sanitation.
In this regard, a premium shall be placed on interventions that have the greatest impact on improving living conditions in rural areas.
Government shall therefore continue to open new avenues of employment, facilitate security of tenure on traditional land; improve access to credit; enhance provision of skills and entrepreneurship training.
To promote productivity in rural areas science and technology and the use of ICT shall be enhanced.
ICT and science and technology can accelerate economic development and transform the way people in the rural areas do business.
Policies and Key Reforms
Government will facilitate the coordinated implementation of sector policies and strategies concerned with the development of rural communities.
An Integrated Rural Development Strategy (IRDS) will be developed to highlight the long, medium, and short term measures for rural development.
The strategy will bring out various provincial comparative advantages and identify investment opportunities in rural areas.
The strategy will identify principal coordinating institutions to be responsible for coordination of various interventions.
In an effort to effectively deliver public goods and services to the rural areas, Government will deliberately create rural growth centres in all the provinces where all the socio-economic services will be provided in one place for easy access.
Government will undertake devolution of functions to facilitate among others equitable allocation of resources for rural development.
Implementation, Monitoring and Evaluation
To effectively implement the rural integrated development strategy, Government will establish inter-ministerial clusters mandated to coordinate, monitor, and evaluate all rural development programmes.
In line with national reporting requirements, the sector will produce annual reports on programme implementation to gauge progress towards the attainment of annual targets.
Quarterly reporting will be undertaken as an early warning mechanism to ensure that programme implementation is on course towards attainment of sector annual outputs and outcomes.
The sector will also undertake monthly monitoring of programmes contained in the Plan as well as the Strategic Plans to facilitate internal learning and inform decision making processes.
This process should also assist in aligning sector performance towards the attainment of national objectives.