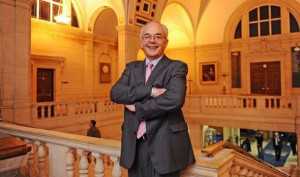 TWO police and crime commissioners are being investigated over claims of electoral fraud.
The pair are alleged to have given false addresses during elections in November last year.

Strict rules required candidates to have permanent addresses on polling day in the areas they would represent.

Winston Roddick, who stood as an independent for North Wales, is alleged to have given his brother's address in Caernarfon while actually living 170 miles away in Cardiff.

Meanwhile, it is claimed that the independent commissioner for Hampshire, Simon Hayes, lived in Earls Barton, Northants, while giving an address in Bishop's Waltham, Hants.

The Government has taken a drubbing over the PCCs – who have replaced police authorities in 41 areas in England and Wales – after voter turnout was as low as 11 per cent in some areas.

Critics have also attacked the sidelining of career officers in favour of the US-style elected police chiefs.

A spokesman for the Independent Police Complaints Commission confirmed the probes. He said: "We are in the early stages of an investigation."

Mr Hayes, a former criminologist and Conservative councillor, denied wrongdoing, saying he was "content" that he had completed the nomination form correctly for his £85,000-a-year post and adding that he was "quite content it is being investigated".

Mr Roddick, 72, has faced criticism for continuing to work part-time as a barrister.

He said yesterday the probe follows a North Wales resident's complaint of an "election offence".

He added: "I believe I acted in a right and proper manner but the IPCC is required to investigate such complaints and is doing so in a perfectly proper and transparent way."

Tal Michael, who stood for Labour in North Wales, said: "The implications if a commissioner is found guilty of electoral fraud are that we will need to have another costly election."

Electoral Commission spokeswoman Sarah Mackie said: "To be eligible… you must be registered as a local government elector in a local authority area that is within the police area in which you wish to stand, both at the time of your nomination and on polling day.

"It is an offence to provide a false statement on nomination papers."

If charged and convicted, the commissioners could each face a £5,000 fine or a 12-month jail term.

The PCCs have faced a string of damaging allegations.

In April, it emerged the commissioner for Cumbria, Richard Rhodes, had spent £700 being chauffeur-driven to two official dinners and Kent commissioner Ann Barnes's 17-year-old youth adviser had written racist and homophobic posts on Twitter.