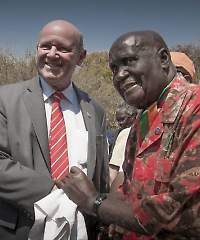 The founding President of Zambia, Mr. Kenneth Kaunda, and Mr. Alain St.Ange, the Seychelles Minister responsible for Tourism and Culture, met at the International Peace Park in Livingstone during the IIPT tree planting event to mark the UNWTO 20th General Assembly which is being organized jointly by Zambia and Zimbabwe.
Both former President Kaunda of Zambia and Minister St.Ange of the Seychelles were guests of Mr. Louis D'Amore, the President of the USA-based IIPT (International Institute for Peace through Tourism Organization).
Former President Kaunda and Minister St.Ange first met each other in Lusaka two years ago when President Kaunda was the guest of honor to address an international tourism forum alongside President Banda.
The discussions between the Zambian founding President and the Seychelles Minister were seen as free and very cordial.
Source: Seychelles Ministry of Tourism and Culture