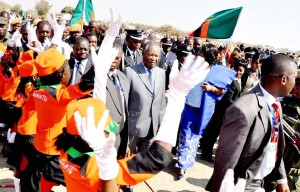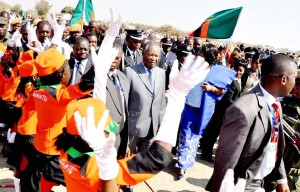 RARE thrill of entertainment characterised Harry Mwaanga Nkumbula International Airport here yesterday when word went round that the jet carrying President Sata would be landing in front of the magnificent new terminal building in the tourist capital.
As the plane touched down at 10:10 hours, scores of majorettes clad in regalia bearing United Nations World Tourism Organisation (UNWTO) logos shouted "You are welcome" as traditional dance groups from various parts of the country beat their drums, singing in local languages.
Patriotic Front (PF) members were not left out of the frenzy. They sung and chanted party slogans to welcome and support President Sata who was arriving in the tourist capital for the official opening of the UNWTO
general assembly in Zimbabwe's Victoria Falls Town which took place last night.
Zambian musician Wesley Chibambo fondly known as Dandy Krazy, also stomped the apron with his dancing troupe.
To President Sata's amusement, Dandy Krazy staged the Donchi Kubeba song, which PF supporters used widely during campaigns for the 2011 general elections.
Dandy Krazy's performance attracted hundreds of people, including Minister of Defence Geoffrey Mwamba, who joined in the singing.
Shortly afterwards, President Sata's motorcade left the international airport and cruised through the new-look tourist capital road network up to the magnificent Royal Livingstone Hotel located on the banks of the Zambezi River.