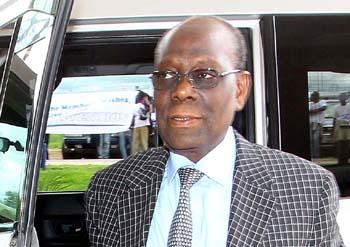 WE join the nation in mourning the untimely death of veteran politician Mr. Benjamin Yoram Mwila whose death has robbed the country of one of its prominent business executives who made great contribution to national development.
Mr. Mwila 70, who was better known as a businessman rather than a politician during his lifetime, belonged to the original crop of Zambians who joined hands in 1990 to challenge the one-party dictatorship and set in motion the phenomenal political and economical changes that transformed our country after nearly 18 years of single party rule.
The formation of the Movement for Multiparty for Democracy (MMD) whose first elected leader was Frederick Chiluba, defeated UNIP in the historic elections of October 31 1991, ushering in Dr. Chiluba as Republican president and Mr. Mwila was appointed to the senior Cabinet portfolio of defence minister, a position he held for 7 years.
Like many of his colleagues who spearheaded the formation of the MMD, he later left the former ruling party to form his own political party.
The country has, therefore, lost an experienced politician who contributed a lot to the nation during the formative days of the MMD when they formed government.
But the man known in political circles simply as BY, was better known as an astute businessman who had well established businesses in the private sector for many years, Mr. Mwila passed on in a South African hospital on Saturday evening.
His businesses ranged from trading (as proprietor of a number of supermarkets) to construction.
These firms employed many young Zambians, and these people have joined Mr. Mwila's immediate family members, as well as all Zambians in mourning this son of the Zambian soil.
Mr. Mwila easily mingled well with fellow politicians, having first come on the political platform just after MMD's formation and later the party's defeat of UNIP during the 1991 general and presidential elections.
Mr. Mwila was, meanwhile, the party's member of the national executive committee where he held the post of treasurer.
Mr. Mwila did not stay in the MMD as he later quit the party and founded his own Republican Party, which later became Zambia Republican Party in 2000 and later in 2006 the National Democratic Focus.
It was on the latter party's ticket that Mr. Mwila won the Nchelenge parliamentary seat during the 2006 general elections.
In the days leading up to his demise, Mr. Mwila seemed to have retreated from the public limelight.
Not surprising, very few people knew of his illness together with treatment in the South African hospital where he died last Saturday.
Mr. Mwila is certainly a loss to Zambia, meaning that if close family members are feeling a sense of dread following this man's death, they are certainly not alone.
We mourn with them, like so many other Zambians out there, and urge them to realise that although humans may try to fortify themselves against the storms of life, there are things that are virtually unavoidable, and prominent among these is death.
We just hope that BY's spouse, children, grandchildren and friends can find hope in the Old Testament story of Job.
This says that when Job lost everything, he never lost his faith in God.