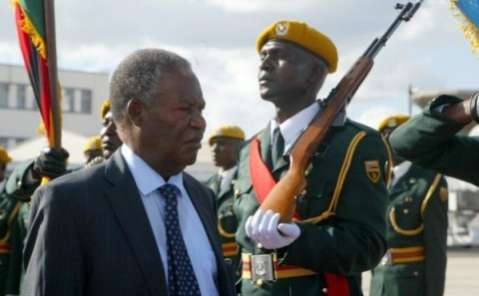 PRESIDENT Sata is concerned with flouting tender procedures and short-circuiting accounting procedures "for the sole purposes of short-lived expediency".
Mr Sata warned that the government will institute appropriate sanctions to ensure that the public service, including all other agencies directly or indirectly connected to central and local government, are above reproach in financial governance.
He said in a speech read for him by Finance Minister Alexander Chikwanda on Wednesday that this is necessary because public institutions, without exception, must move away from the entrenched culture of appearing in the Auditor-General's report.
"We cannot continue with the incessant toiling to create wealth which only ends up in a few people's pockets. National wealth is for all and accountants, including associated professionals like auditors, must take the lead in ensuring that equitable wealth distribution is attained in Zambia," he said.
Mr Chikwanda opened a two-day accountancy annual business conference whose theme was The accountancy profession: Wealth creation and entrepreneurship.
Mr Sata said Zambia needs a complete transformation of the work culture to succeed in creating wealth and promoting entrepreneurship.
This cannot be achieved in the accountancy profession in Zambia, unless with the provisions of the Public Finance Act, coupled with appropriate support and sanctions by professional bodies against ailing accounting practitioners, he said.
"However, while it is in our interest to move expeditiously in creating employment and reducing poverty, this will not be at the expense of adhering to good financial management and other governance statutes and regulations across all levels of Government," he said.
Mr Sata called on members of the accounting profession to report anyone flouting procedure to appropriate law enforcement agencies.
"Any member and entity, whether from the public or private sector, who knowingly creates an environment that facilitates misappropriation and misdirection of public resources must be checked," he said.
He said it is the duty of accounting bodies to ensure that frequently as resources permit, integrity inspections on members are conducted and reports acted upon.
Mr Sata said government's ability to effectively promote pro-poor growth through the budget depends on the efficacy of its public financial management practices, embedded in the principles of collaboration, consultation, transparency and accountability.
Earlier, Zambia Institute of Chartered AccountantS president Frederick Banda called on Government to revisit the position of Accountant-General and the Controller International Audit to address financial management challenges raised in the Auditor-General's annual report to Parliament.
Mr Banda said the two leading public sector accounting professionals in the civil service have an enormous task to deal with the wastage of public resources.
He said ZICA plans to establish a public sector standards board with budget tracking as one of the key terms of reference.