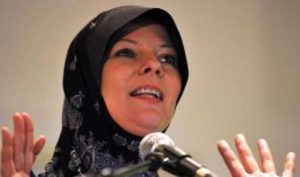 TONY BLAIR's sister-in-law, Lauren Booth, yesterday played down accusations of "home-wrecking" after she was pictured smiling alongside her new Muslim husband Sohale Ahmed.
Cherie Blair's 45-year-old half-sister married Mr Ahmed, 49, in a Muslim ceremony earlier this year, but his estranged first wife claims they are still married under British law.
The latest photograph risks causing even more anguish to Faiza Ahmed, 37, who now lives in Texas. The separated couple have been married for 16 years.
Speaking to The Sunday Express, Miss Booth was keen to distance herself from Mrs Ahmed's allegations that she had "destroyed" her marriage.
RAD MORE ON  TONY BLAIR's sister-in-law, Lauren Booth