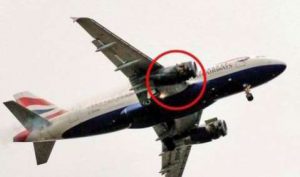 BRITISH AIRWAYS was facing a safety crisis last night as a probe into the near catastrophic emergency landing of an Airbus at Heathrow nine days ago examined whether an engineer had signed off the wrong plane to fly.
Sources at the airline confirmed that two engineers, one of them a supervisor, have been relieved of their usual duties pending inquiries by BA and the Air Accident Investigations Branch. One was said to have been physically sick at the realisation of what he had done.
A preliminary report published by the AAIB on Friday confirmed the incident was caused by a failure to secure the latches on the Airbus A319's engine bays.
Shortly after take-off for Oslo, the large metal cowls covering the engines ripped off and ruptured a fuel line.
Smoke billowed from the plane, which had 75 passengers on board, forcing the captain to issue a Mayday distress call.
The aircraft flew over millions of homes, making a huge loop over Watford and as far as Chelmsford in Essex before making its emergency landing back at Heathrow.
The pilot then landed the plane with what experts have said was "considerable skill".
The airline has so far refused to offer compensation, either to the flight's passengers or to any of the estimated 25,000 other travellers whose journeys were cancelled as a result of subsequent disruption on the busy bank holiday weekend.
Under European legislation, BA could be liable for up to £500 for every affected passenger, totalling £13million, unless it can show the delays were due to "extraordinary circumstances".
READ MORE at  British Airways plane allowed to fly 'by mistake'