PRATTVILLE, AL (WSFA) –
At Fox's Pizza Den in Prattville they're adding a little flavor to another pizza. Stacy and Garren Goss are about to do same with their lives, sprinkling in a big adventure beyond their wildest imagination.
Stacy and Garren are just weeks away from moving to Zambia, Africa, to spread the Gospel. They've been a few times already but this time, they say, it's for 5 years.
"We're going to train pastors at the International Bible College," said Mrs. Goss.
The idea was borne out of tragedy. The couple lost their 17-year old daughter, Michelle, eight years ago in a car wreck in Prattville. Michelle had a heart for missionary work.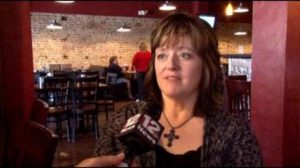 "This is something she did, and we want to complete her mission," Mrs. Goss explained.
Stacy and her husband, Garren, are eating at Fox's Pizza Den on this day because the restaurant is donating 10 percent of its sales for the trip. Fox's ended up donating more than $900.
A poster board nearby tells part of the story from their previous trips; a staff house built in Michelle's honor and photos of some of the natives in Zambia.
Garren quit his full time job as an accountant and Stacy left her part-time position. Stacy admitted she didn't quite know what to make of her husband's suggestion at first.
"I was nervous and anxious, but I believe this is the right thing to do," she said.
The couple say they'll be relying on friends and their church for monthly contributions while leading Zambians to God.
Moving from small town America to the world's second most populous continent is no easy task, but Stacy and Garren say they're ready, ready to change lives they hope for the better knowing Michelle is encouraging them on