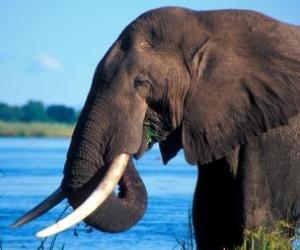 A 44 – year – old man from Muguramenu village in Chieftaness Chiawa's area has been killed by an elephant.
Kafue District Commissioner Grace Ngulube confirmed the development to ZANIS saying she was saddened by the death of another man who has been killed by elephant in Chiawa.
Mrs Ngulube who identified the deceased as Clement Chalinga said the elephant attacked and killed him around 23:00 hours on Sunday at his fields where he has been spending nights trying to protect his crops from being destroyed by elephants.
Mrs Ngulube has since called on Zambia Wildlife Authority (ZAWA) to find a lasting solution to curb the rampant killing of people by elephants in Chiawa.
She said so many lives have been lost in Chiawa area of people being killed by elephants hence ZAWA should move in the area and prevent further loss of lives.
Mrs Ngulube said there was need for some ZAWA officers to be camped in Chiawa as opposed to the current situation where they are stationed in Chirundu and only rush to Chiawa when someone is killed by a wild animal.
A 70 year old man  from  another village in Chiawa area was also killed by an elephant barely about six months ago after he had gone in the bush to cut a piece of log for his axe.