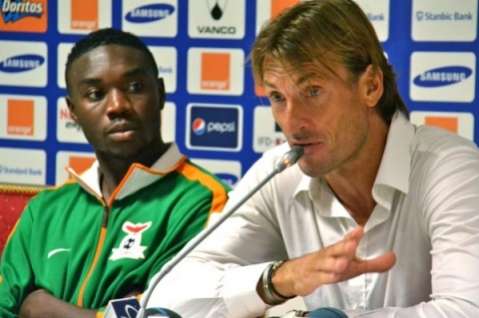 The Chipolopolo boys have been held to a goalless draw in an international friendly match against Norway.
The game played at Ndola's Levy Mwanawasa Stadium was watched by a scanty crowed which saw Zambia miss several chances.
The team comprised mainly of the players that won the 2012 Africa Cup final in Gabon.
The game was Zambia's final preparatory match for the 2013 Africa Cup of Nations scheduled to kick-off in the next seven days.
Zambia team coach Renard has discribed the match against Norway as tough.
Renard says he is aware that a number of soccer fans are questioning why the team is not scoring but has assured  that they are being kept for the upcoming competition.
Renard has pointed out that his strategy is to prepare the team for the future and not friendlies.
He has also declared the team ready for the Africa Cup competition.
And Norwegian national team coach Egil Olsen has rated Zambia as a strong team capable of defending the African Championship.
Speaking to journalist in post match interview, Olsen says comparing the game played against South Africa, the Chipolopolo boys did put up a good performance.
Zambia will face Ethiopia, Nigeria and Burkina Faso in group C.