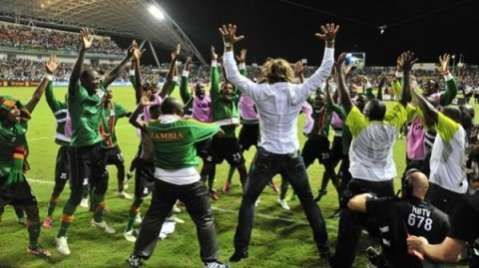 Angola and the defending champions Zambia are the first of the African Nations Cup competitors to arrive in South Africa for the tournament, almost a full three weeks before the kick off of the tournament.
Both countries are based in Johannesburg and will remain there throughout the preparatory phase before the start of the event on January 19.
The bulk of the Zambia squad flew in from Ndola on Boxing Day while an initial party of 20 Angolan players plus support staff have moved into the Milpark Holiday Inn to continue their preparations.
They are all players based in Angola's GiraBola save for the Brazilian second division striker Geraldo.
They will be re-enforced over the next week by seven players from clubs in Europe. All will be in camp by January 5, the Angolan Football Federation said but a few might join earlier, including veteran Gilberto, who is in Luanda negotiating a contract at Petro Atletico after years of playing in Egypt, Belgium and Cyprus.
Angola's home based players have already had two weeks of training at Lubango and played three friendly matches against the Gambia, Rwanda and Cameroon's under-23 team.
Angola's football federation said three more friendlies were planned against Mozambique, Tanzania and Zambia, likely all in the Johannesburg area, before the tournament kick off but none of the matches have yet been fixed.
It is expected Algeria and Morocco will be the next two sides to arrive in South Africa for the tournament, both scheduled to arrive in the country just days after New Year.