Speech By
His Excellency, Mr Edgar Chagwa Lungu
President Of The Republic Of Zambia
At The Commissioning Of The Newly Constructed Chipata Distrct Hospital Phase I,
In Chipata District, Eastern Province
Sunday, 24Th June, 2018.
State House
• The Provincial Pf Chairman;
• All Cabinet Ministers Present;
• Your Worship The Mayor Of The City Of Chipata;
• Senior Government Officials;
• Your Royal Highnesses Present;
• Members Of The Press;
• Ladies And Gentlemen:
I Am Greatly Honoured To Commission Chipata District Hospital Phase 1 At A Total Cost Of K10 Million. This Is A Milestone In My Government'S Efforts To Bringing Health Closer To The Door Steps Of Our People.
It Is Also Gratifying To Note That Phase 2 Of The Project Commenced On 21St July 2017 At A Total Cost K28 Million And Is Almost Complete.
This Occasion Therefore, Comes At An Opportune Time As We Are Transforming Chipata Into A City. Provision Of Public Services In The City Has To Match Its Status.
The Construction Of Chipata District Hospital Is One Of The Many Infrastructure Projects That The Patriotic Front Government Has Undertaken.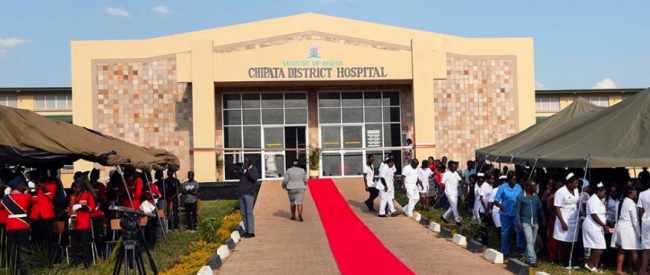 Currently, My Government Is Constructing District Hospitals In Vubwi, Nyimba And Lundazi; A General Hospital In Petauke; Staff Hostels At Nyanje Mission Hospital And 57 Health Posts Under The 650 Health Posts Project.
So Far, 44 Health Posts Out Of The 57 Allocated To Eastern Province Were Completed And Are Operational.
Let Me Reiterate Our Resolve As The Pf Government That We Ensure We Deliver On The Promises Upon Which You The People Of Zambia Gave Us The Mandate To Govern.
The Opening Of Chipata District Hospital Has Reduced The Distance That Our People Around This Area Have To Cover To Access 1St Level Hospital Services. It Has Also Reduced Congestion At Chipata Central Hospital And Streamlined Referral Services.
Furthermore, The Opening Of This Hospital Will Contribute Significantly To Eliminating Maternal And Child Mortality, Eliminating Malaria And Attaining Hiv Epidemic Control By 2021.
In Addition, We Endeavour To Continue To Reduce Premature Deaths That Are Attributable To Non-Communicable Diseases.
Therefore, I Would Like To Call Upon All Departments To Seriously Address The Increasing Burden Of Non-Communicable Diseases By Embracing Policy Strategies On Health, Specifically Accounting For Our Workers' Time During Friday'S Sports Day.
The Commissioning Of This Hospital Represents A Major Milestone As We Strive To Make Our Country Smart By Embracing The Use Of Information Communication And Technology. Going Smart Will Reduce The Cost Of Doing Business In The Country. This Hospital Is The First Paperless Hospital In The Country From Inception.
Thus, My Government Will Roll Out Electronic Health Records Management System To 26 Health Facilities In Chipata, Kasenengwa And Chipangali Districts By The End Of July This Year. In Order To Realise This, It Is Important That All Public Facilities Have Access To Power.
In This Regard, I Am Directing Rural Electrification Authority To Ensure That All Facilities In Chipata, Kasenengwa And Chipangali Districts Near The National Grid Are Connected To Power. To Enhance Communication, It Is Also Imperative That All Health Facilities Are Connected To The Fibre Optic Network.
Ladies And Gentlemen:
In Order To Accelerate Operationalisation Of E-Governance, It Is Vital That Future Infrastructure Development Incorporates Ict Infrastructure. I Am Therefore, Directing The Ministry Of Housing And Infrastructure Development To Ensure That All Upcoming Government Infrastructures Incorporate Ict And Those Which Are Already Under Construction Should Have Ict At The Final Inspection And Certification.
It Is My Singular Honour To Officially Commission The Newly Constructed Chipata District Hospital Phase I.
Thank You And May The Almighty God Bless You All!