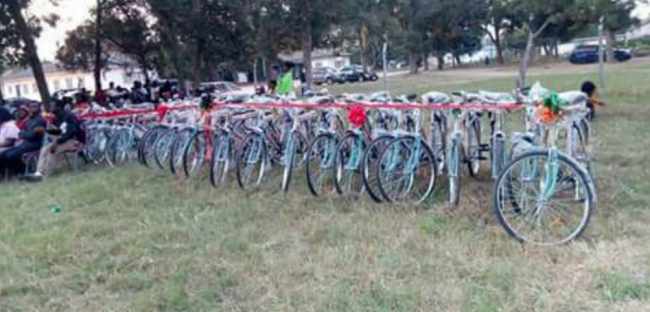 GOVT WARNS CHOMA RESIDENTS AGAINST EXCHANGING DONATED BICYCLES WITH BEER
Minister of Community Development and Social Services Emerina Kabanshi has warned Social Welfare and Cash transfer (SIWAC) members against exchanging the donated bicycles with beer.
Speaking at the handover ceremony at the provincial administration office in Choma on Friday, Kabanshi said the bicycles should be put to good use and SIWAC members should not use them to pay their debts.
She explained that Government will continue to help the vulnerable in society to reduce the prevalence of poverty in the country.
Kabanshi added that she is impressed with the commitment of Choma residents and has since called on them to continue working together.
The Minister who handed over 93 bicycles to SIWAC members in Choma and a Toyota Land cruiser to the District Community Development and Social Services unit said the vehicle has been donated to ease the burden of transport.
And Choma District Commissioner Sheena Muleya has observed that the donation of the bicycles and the vehicle is a plus for the district.
She has told Byta FM News that the donation by Government will go a long way in reaching out to beneficiaries in the Social Cash transfer by SIWAC members.
Muleya said the giving out of the bicycles and the vehicle just shows how Government is committed to improving the lives of people in the District.
Meanwhile, one of the beneficiaries in the Social cash transfer programme has thanked Government for changing her life and that of her children.
Honest Siamudelu has told Byta FM News that K180 she gets through the programme has enabled her to take her children to School and have decent meals.
She revealed that she has since started a charcoal and fish business from the money she receives through the Social Cash transfer programme.
Byta FM