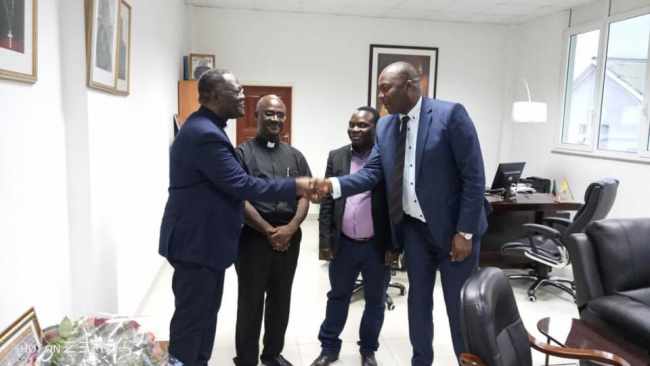 NDC lauds suspension of Lusambo from parly!
Kitwe. 21.03.2018.
The NDC has applauded the speaker of the National Assembly for suspending pf kabushi lawmaker Bowman Lusambo.
The suspension of Lusambo from the house of representatives is timely and long over due.
The behavior of Lusambo who assaulted and humiliated the Member of Parliament for Roan Chishimba Kambwili last year is highly regrettable.
Clearly, lusambo lacks the etiquette decorum befitting the status of a parliamentarian.
The poor behavior and violence tendency of Lusambo speaks volumes and is a danger to fellow parliamentarians.
The suspension of the kabushi lawmaker has exonerated the NDC that has always said that Lusambo does not deserve to be in Parliament.
This is not the first time that Lusambo is in the news for instigating violence.
We saw years back how Lusambo assaulted then opposition MMD National Secretary Major Richard Kachingwe.
Lusambo seemingly does not know why he went to Parliament and does not deserve to be in Parliament.
As NDC, we appeal to President Edgar Lungu to consider revoking the appointment of Lusambo as lusaka Province Minister.
Last Friday, President Lungu addressed Parliament were he discussed National morality and values.
If Mr. Lungu is serious with promoting national morality and values, we demand that he dismisses Lusambo.
Lusambo's behavior is clearly immoral and outrageous.
Zambia is now a laughing stock in the Commonwealth parliamentary family.
We have always known Parliament as a house for honourable men and women.
Clearly, Lusambo's conduct is shameful and the latter is an embarrassment to both the pf and people of kabushi.
As NDC, we feel the speaker of the National Assembly should have imposed a more harsher punishment on Lusambo.
As a party, we have always wondered why President Lungu has never condemned Lusambo's foul behaviour at the precincts of Parliament.
The people of kabushi made a big mistake to elect Lusambo.
Apart from being a violent man, the latter seems to have no understanding of his role as a parliamentarian.
Lusambo has never added value to Parliament and we feel, he should relinquish his parliamentary seat.
As a matter of concern, we feel the police service has not done a commendable job in probing the assault of Dr. Kambwili by Lusambo.
It is clear, that there is a lot of political interference in this case.
It is now five months since Dr. Kambwili was assaulted and the probe into this case has taken unnecessarily taken too long.
Issued by: Mwenya Musenge. General Secretary NDC.