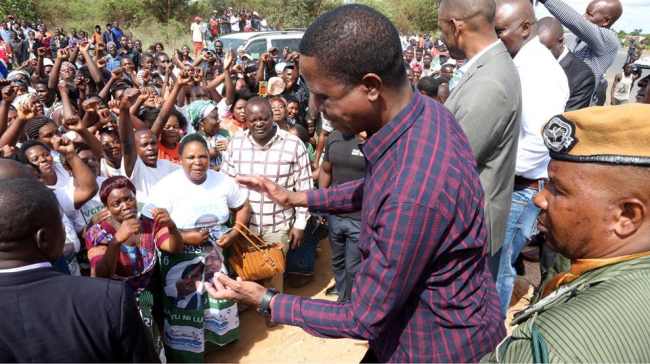 Pf insiders have revealed that president Edgar Lungu is contemplating not to run for a third term bid in 2021.
The Pf youth's indicate that the Head of state has been briefed by intelligence sources that his chances of scooping the 2021 poll hang in the balance as the popularity of the governing party seems to be dwindling.
The Pf youth leader's close to the Lungu inner circle say the Head of state is instead under intense pressure from his close associates within the Pf and his aides at state house to run for a much condemned third term bid.
Mr. Lungu has however openly told his associates that the corruption scandals being exposed by the NDC, has greatly thinned and narrowed the chances by the Pf to win re-election.
The Pf youths close to president Edgar Lungu, added that the Head of state is fully convinced that the Pf was no longer a vanguard party.
As NDC, we have also been told by those who eat on the same table with the president that he is contemplating endorsing either Finance Minister Felix Mutation as the Pf presidential hopeful.
On the other hand, the Head of state feels chitalu chilufya, the Health Minister is a better candidate than Mutati who is an outsider from the former ruling party the mmd.
Pf sources have further disclosed that Mr Lungu has started premature campaigns just to try and test the waters.
This could be seen from the countrywide tours and donation of bikes that the Pf is making to party functionaries.
The Pf insider's further reveal that Mr Lungu knows that the majority of Pf members countrywide are not happy with his leadership and are only interested in sharing the spoils.
As NDC, we, therefore, take this opportunity to urge our youth's countrywide to go flat out and sale our party.
Current happenings in the Pf are an indication that NDC is increasingly becoming a party of first choice.
As NDC, we appeal to all our comrade's in Pf to leave the party in masses so that a warning is sent to Lungu that time is up for him and the Pf.
Issued by:
Charles Kabwita.
National Youth Chairperson.