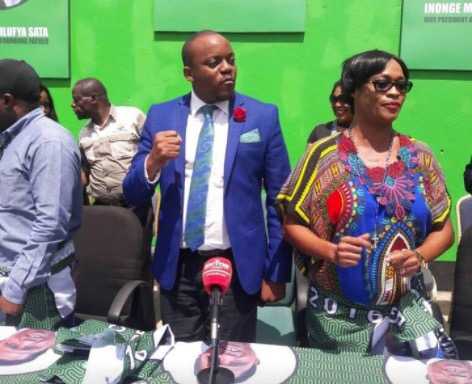 Deputy Secretary General Mumbi Phiri today received Former FDD Spokesperson,Antonio Mwanza and welcomed him to the party
Mr Mwanza has joined the PF.
On his Facebook page Antonio writes:
It is finished!
I have done my part.
I have put my heart and my soul in this thing and my conscience is clear. And I am sure that any honest human being will be proud of my contributions but I guess it's time to go. It's time for new challenges, new thinking and a new dawn.
Aluta Continua!!!!
SOME COMMENTS ON HIS FACEBOOK PAGE:
Kaoma Misheck
Kaoma Misheck PF of all the parties sure!!!Really there is no morality and sense of shame in politics.Joining the party u labeled corrupt!!!
Interesting!!!????
Allan Nguni Priesthood in PF congregation? Strange indeed
….
Kabu Namiluko Munali By Elections…. ok we see you.
…
Chonta Malinga Didn't know you were going into PF, after all what has been said and done, am disappointed, but again, on a personal basis, wish you all the best
…
Rock Kambita Am very dissapointed with the path u have taken out off all parties sure no think about it comrade
….
Bashi Chabota Jay Kalikenka Your grip on integrity has finally loosened, you have now decided ukulya fye nabena,kikikikikiki insala kapondo mudala.
….
Mwanza Alstone Be proud! Your choice is very important that 100 comments.
….
Scofield Sammie You have finally succumbed to African Politics. Its a shame to be in African Politics
…..
Joshua JM Mumba Can't blame u
…..
David Simpasa Kuti wakota olo wafwa tawabapo mp olo minister. I support your decision u need to test the meat to know how much salt to put.
……
Namatama Mudenda Insala kapondo….
…..
Shadrick Malulu He has joined bakoswe muponto ,
…..
Honourable Geoffrey Jnr Nsofwa All the best
….
Honourable Geoffrey Jnr Nsofwa All the best
….
Kumbuso Tembo Maaa of all things??? I guess some people can't see the wind of change. 😂 😂 PF of all things.
…..
Matthews Akapelwa Yakunyokola njala politics of the belly at work. I used to have a lot of respect for you antonio not anymore i know who you are now shame
……
Mar Tha You a sell out n if u think the people of munali will vote for u on the pf ticket yailasha….we ain't voting for the corruption you sang about at any given platform
ZNBC WRITES:
Forum for Democracy and Development -FDD- spokesperson Antonio Mwanza has resigned from the opposition party and joined the ruling Patriotic Front.
Mr. Mwanza says he has decided to join the PF because it is the only party that means well for Zambians.
He says the party under the leadership of President Edgar Lungu has demonstrated unity which is a pre-requisite to development.
Mr. Mwanza has thanked the FDD for giving him an opportunity to serve in the party, saying he will use his experience to strengthen the PF.
And receiving Mr. Mwanza, PF National Youth chairperson Steven Kampyongo said the party is not shaken by those leaving it.
Mr. Kampyongo who is also minister of Home Affairs says the PF has drawn membership across the country and is open to anyone who wants to transform the nation through politics of national interest.
Speaking at the same function, PF deputy Secretary General Mumbi Phiri appealed to PF members to embrace and work with Mr. Mwanza.
Mrs. Phiri says unity of purpose will attract more members to join the PF.