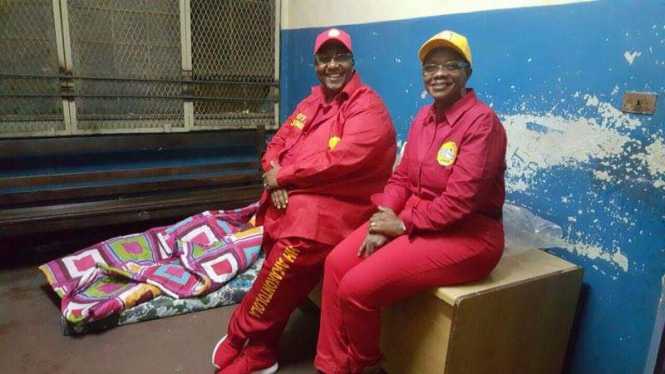 The arrest and detention of our Vice-President Geoffrey Bwalya Mwamba on trumped up charges is clearly another exercise meant to derail our campaigns.
GBM and his team were supposed to move on to tour other provinces today, instead he is spending the weekend in police cells after being escorted to Ndola Police Station shortly before the start of our campaign launch rally.
Meanwhile, our billboards, posters and campaign programmes have come under attack by those who want to stop our message being delivered to the people across the country.
These unacceptable and autocratic acts are alien to our country and violate the spirit of One Zambia One Nation. We will never move our country forward under such leadership.
As I said during my speech at the rally yesterday, good governance is essential for development. It is part of the UPND's 10 Point Plan for Zambia and when we are in office no trader will have to fear being chased from the market, and no bus driver will have to fear being banished from the terminal simply because of their political affiliation. This is not the kind of Zambia we want to see and we shall not revenge such evil acts once given an opportunity. Instead we will push ahead with our positive agenda for delivering change, which includes reforming the Anti-Corruption Commission to protect it from government interference and reforming the Public Order Act.
Our call to our members across the country is to remain strong in the face of such intimidation and offer solidarity to one another.
We call on you not to react to such provocation with violence. The PF are seeking to push us into retaliation, which no good can come of. Remember we are all God's children and must love one another regardless of tribe, gender, political affiliation or any other such qualification.
Instead we must work even harder in party mobilisation activities as Zambians await economic liberation. People are looking to us to serve them diligently and to fix our country through the delivery of our 10 Point Plan. We must not let them down.
God bless.
Hakainde Hichilema
UPND President